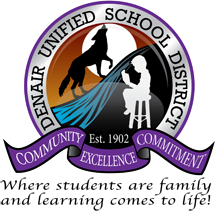 Submitted by Denair Unified School District
Students at Denair High School and Denair Charter Academy soon will be logging some miles traveling up and down Highway 99 to Fresno and Southern California.
School board trustees approved three upcoming trips at their meeting Thursday night.
The first is April 22-25 when as many as 19 FFA students from Denair High are expected to attend the state FFA convention in Fresno. The conference is one of the high points of the FFA calendar each year, anticipated almost as much as county fairs where animals are shown and projects are judged.
The convention provides leadership training, networking and growth opportunities for students. An estimated 5,000 teens from across the state attend each year. Denair's attendees are selected based on their participation in FFA events, their grade-point averages and the effort they put forth in classes.
"There are sessions with speakers and other breakouts on different topics. It's very popular and important for students," Denair High ag teacher Molly Hanson told the board. She, fellow teacher Matthew Marshall and at least one other adult will chaperone the Denair contingent.
Trustee Ray Prock Jr. went to the convention with his son three years ago and said it was a terrific experience. "This is something to see. The only thing that rivals it is the national convention in Indianapolis."
A second trip involves soon-to-be graduates at DCA, an independent study program separate from the traditional high school. For the first time, there will be a senior trip for graduates to a Southern California theme park. Only instead of going to Disneyland, as many schools do (Denair High grads will go May 10-11), DCA students will enjoy the roller coasters and other thrills at Magic Mountain in Valencia.
The trip is the brainchild of first-year Principal Brian LaFountain, who said it's all about giving his students an opportunity to have a similar experience as their peers at other.
"Even though they're at an independent high school, we want them to have that graduation memory," he said.
The trip is set for May 18. LaFountain expects nearly 50 students to participate. They will board buses at 3 p.m. in Denair and arrive at Magic Mountain about 8:30. In addition to the rides, there will be meals throughout the evening as well as a dance party after midnight. They will get back on the buses at 5 a.m. for a sleepy ride home.
Cost is $160 per student. Teens can help offset that by participating in any or all of three fundraisers – selling candy, Save Around coupon books or tickets to an upcoming Denair Night at a Modesto Nuts game.
The final trip approved Thursday night involves the Denair High football team. Coach Anthony Armas and his staff already have been working with players on weight training and getting in shape. But before practice begins in the summer, he wants to arrange a team-building experience … at Disneyland.
Armas is no stranger to Disneyland. He has a season pass and was there just a few weeks ago. Last fall, hours after coaching Denair to an upset over unbeaten Delhi, Armas hopped on a plane to meet his family at the "Happiest Place on Earth."
The trip is planned June 27-30. Up to 20 players – sophomores, juniors and seniors – will stay with about eight chaperones at a motel. They will enjoy Disneyland one day and California Adventure the next. Cost is $300 per player, which they can help raise at a weightlifting "Lift-a-Thon" on March 25.
"We saw this as an opportunity to do something memorable with the kids," Armas said. "We can do this because we're a small school. I think it will be fun and different and something special."
Trustees Robert Hodges and Kathi Dunham-Filson expressed some concern about teen-age boys being away from home multiple days and the potential for behavior issues. Armas acknowledged the potential for a problem, and said he and his coaches have discussed what they would do under various scenarios.
"We'll have a parent meeting with the kids and lay down the ground rules and consequences," Armas said. "I feel with have a good group of kids. I can't guarantee something won't happen, but I think we'll be all right. … If we want to do something great, something special, we have to trust them."
Armas' assurances apparently convinced Hodges and Dunham-Filson, who joined the three other board members in approving the trip.