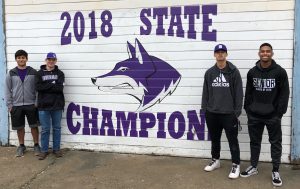 Submitted by Denair High School
Not that anyone living in Denair is ever likely to forget, but there now is a vivid reminder on a busy downtown corner of the community's state championship football team.
Last week, four players from that team worked with Denair High art teacher John Stavrianoudakis and Denair alum Hector Obando to design and paint a mural on the side of a former gas station at the corner of Main Street and Sante Fe Avenue.
A purple Coyote mascot's head is bracketed by the words "2018 State Champions." It is visible to anyone driving near the busy intersection.
It is just the latest way to commemorate Denair's amazing rise in football last fall. The Coyotes (12-1) – whose only loss to Ripon Christian cost them the Southern League title – crushed everyone in their way once the Division VII playoffs began.
Their historic streak culminated with a 42-14 victory over Santee of Los Angeles for the state title.
It was at that game – played before a partisan, purple-clad crowd at Jack Lytton Stadium – that the idea of memorializing the spectacular feat came to Denair businessman and Coyote booster Bob Holloway.
"We were still in the stands when I started talking to the superintendent," Holloway said. "They had to jump through some hoops to make it happen, but they did and here we are. It was a helluva accomplishment. Little old Denair won a state championship."  Continue reading "Mural Commemorates State Football Championship" »