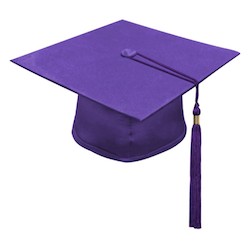 Submitted by Denair High School
The 70 graduates of the Denair High School Class of 2017 received their diplomas Friday night in front of friends, family and community members at Jack Lytton Stadium. The ceremony featured remarks by Superintendent Aaron Rosander, Principal Kara Backman, valedictorian Hector Obando and salutatorian Libby Martinez. School board members were on hand to present diplomas to the students.
Here are what the student speakers had to say:
Hector Obando, valedictorian (4.17 grade-point average)
Thank you for joining us at Jack W. Lytton stadium for Denair High's very own graduating class of 2017.
It comes with great respect and privilege to be here today. Watching all of the people I have grown up with become young adults has gone by too fast. We are on the verge of adulthood! But first, to become an adult we have to strive towards goals our role models have set for us. Therefore we should congratulate not only ourselves, but our role models which includes parents, teachers, coaches, guardians, extended family, friends and anyone else who has imprinted on our lives.
As we become adults, we too are going to be role models. Now, I am not saying to act perfect because nobody can ask that. Just remember, as you continue your trail of life, do not go unnoticed. There's always someone watching whether they are older or younger than you are, and it is never wrong to make a difference in their life.
I know that I have not been here as long as some of my fellow graduates. I started my freshman year, but this moment today will bring joyous cheer and also a teary-eyed sunshine. I will miss my family that I call the graduating class of 2017. Continue reading "Class of 2017 Honored at graduation Ceremony" »