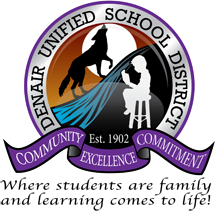 Submitted by Denair Unified School District
The two people elected next month to the Denair Unified School District Board of Trustees will serve an extra year, thanks to a decision by current board members Thursday night.
Trustees voted 4-0, with Sandi Dirkse absent, to move the election of trustees from November of odd years to November of even years. The move is consistent with the state's preference to consolidate local elections with statewide voting already scheduled for even years. There is ample data that shows voter turnout is much higher in even year, when people have more issues and candidates to consider.
Packaging elections also is more cost effective, Superintendent Aaron Rosander told trustees.
"There's been work to align elections to even years to save money, that's the impetus," he said. "I think as time goes, you'll see any election in an odd year go away. It's very expensive."
The upshot of Thursday's decision means that voters in the Denair district will select two candidates from a field of four on Nov. 7 and then wait until 2020 to vote again. The terms of those elected next month will run until 2022.
On the ballot are Crystal Sousa, Charlie Asbill, Tina Gresio and Regina "Reggie" Gomes. They are competing to replace Trustees Robert Hodges and Sandi Dirkse, who chose not to seek re-election.
Also affected are the three trustees whose terms would have ended in 2019 – Kathi Filson, Ray Prock Jr. and John Plett. They now will serve until 2020.
Board members and the audience also watched a presentation Thursday night from two members of Stanislaus County law enforcement. Probation officer Maribel Garcia and criminal investigator Louis Balentine shared information about the FOCUS (Focusing on Children Under Stress) program. Continue reading "Denair Trustees Vote to Move Elections to Even Years" »