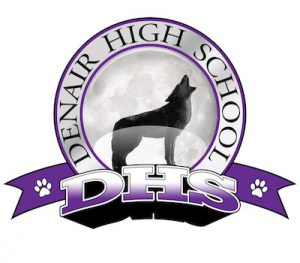 Submitted by Denair High School
DENAIR – There are fast starts … and then there are faster starts.
Friday's 36-6 Denair blowout of Delhi clearly falls into the second category.
The Coyotes scored on four of their first five plays of the game, built a 29-0 lead at halftime and coasted the rest of the way in front of a raucous homecoming crowd at Jack Lytton Stadium.
To make the night even better, the Coyotes got some help from Orestimba, which knocked off Waterford. The left Denair alone in second place in the Southern League standings and firmly in control of its own playoff destiny with two weeks left in the regular season.
The Coyotes (7-1 overall, 4-1 in the league) play at Mariposa this week before hosting Waterford on Oct. 26.
Unbeaten Ripon Christian (8-0, 5-0) – which beat Denair 35-7 four weeks ago – is cruising to the Southern League title. But two more victories would assure Denair of second place all alone and, more importantly, a high seed and home game when the Sac-Joaquin Section Division VII playoffs begin Nov. 2.
"The only thing we can control is the next two games," said Denair Coach Anthony Armas. "The CIF is going to rank us where they rank us. There's nothing we can do about what other teams do."
Friday night, the Coyotes made quick work of the Hawks (0-8, 0-5).
On its second play from scrimmage, Denair scored on a 28-yard run by Hunter Musgrave. After forcing a Delhi punt, Musgrave struck again, sprinting 88 yards on the first play of the next drive. He finished with 144 yards rushing on just four carries.
The score-on-the-first-play sequence was repeated on Denair's next two possessions – first by Drew Pritchard on a 72-yard run and again when quarterback Elvis Silva connected with Steffin Winston on a 60-yard TD pass.
"We've got some good athletes all around," said Armas of his offense, which is averaging more than 43 points a game in the Coyotes' seven victories.
Denair led 29-0 at halftime. Silva threw a 31-yard touchdown pass to Scott Badal in the second half, which was played almost entirely with a running clock.
The Coyotes' defense also made its presence felt, forcing two more turnovers – a fumble recovery by Winston in the first half and another interception by Pritchard in the second half.
"It seems like Drew intercepts a pass every week," Armas said.
Creating turnovers is not a fluke. It is a point of emphasis each week in practice in what is known as "Turnover Tuesdays," Armas said.
"It was something we really harped on in the off season," he explained. "Our defensive coaches do some drills where we work on stripping the football (out of opponents' hands) or working on tips to get interceptions. Our kids really started flying around on defense in the Gustine game. Turnovers swung the momentum then and have been paying off in the past few weeks."
JV Game: Delhi 13, Denair 6. The Coyotes are 1-5-1 overall and 1-4 in league play.
This week: Denair will play on homecoming for the fourth week in a row, this time at Mariposa (2-6, 1-4). Facing the Grizzlies the road always is a challenge, Armas said. It's a 90-minute bus ride to a one-of-a-kind venue. "They play at the fairgrounds," he said. "It's just different. There are concrete and steel and car parts all around. A few years ago, they put sawdust on the field after it rained to soak up the water. It's just a different environment." … Fullback Dylan De Silva is expected to play after serving a one-game suspension after being ejected two weeks ago against Orestimba. … This is the first time Denair has won at least seven games since 2006, when the Coyotes made it all the way to the Section Division VI championship game. They lost to Lindhurst and finished 8-4 overall. … Denair remains No. 2 in the Modesto Bee's small-school rankings behind Ripon Christian.
This slideshow requires JavaScript.