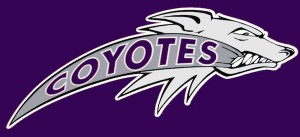 Submitted by Denair High School
Those who underestimate the Denair football team do so at their own peril, as formerly unbeaten Delhi found out the hard way Friday night.
Fueled by a raucous homecoming crowd, the hard running of Justin Steeley and a defense flying all over the field at Jack Lytton Stadium, Denair played arguably its best game of the season. The Coyotes posted their third shutout in four games, winning 14-0 and positioning themselves for what once seemed like an improbable playoff spot with two games remaining.
Despite suiting up just 15 players, Denair dominated the Hawks, forcing seven turnovers on defense and doing just enough on offense with a backup quarterback to make Steeley's two touchdown runs hold up.
As a result, Denair (5-3 overall, 3-2 in the Southern League) is poised to compete for one of the league's berths in the Division VI playoffs. Victories this week at Mariposa (2-3) and at home in the season finale against Waterford (1-4) almost certainly would assure the Coyotes of a playoff game.
"We're not going to shy away from it," said Denair coach Anthony Armas when asked about the postseason. "That's been the goal from the get go. We're really focused on the next two games. …. I have a feeling if we get 7-3, we'd been in, but I don't know how the CIF does it."
Orestimba, which is a Division V school based on its enrollment, leads the Southern League at 5-0. It plays at Delhi (4-1) this week, then finishes against longtime rival Gustine (4-1). Delhi has Orestimba, then plays at Ripon Christian (1-4).
Depending upon who beats who, Denair could finish anywhere from tied for first place to fifth. What Armas does know is the Coyotes control their own destiny.
If they play as well against Mariposa and Waterford as they did against Delhi, the playoffs will be a fitting reward.
"Our defense was lights out," Armas praised. "It was a really good team effort." Continue reading "Underdog Denair Strikes Again, Hands Delhi First Loss" »