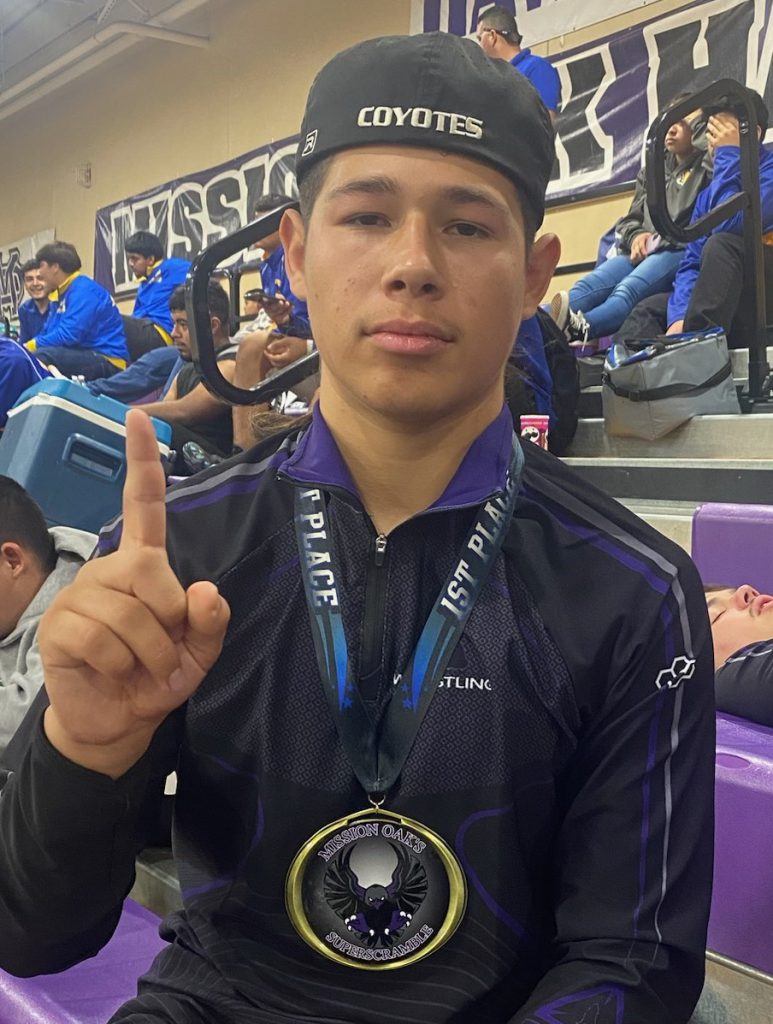 After a few down years, the wrestling program at Denair High is once again trending in the right direction. There is no better evidence than the Coyotes' performance the weekend before Thanksgiving at a tournament in Tulare.
Jesse Ruelas Jr., competing at 157 pounds, and Adrian Enciso, at 190 pounds, became the first Denair wrestlers in at least five years to earn medals outside of a Southern League Meet.
Ruelas, a junior, won his weight class in dominant fashion, pinning all four opponents – the last one in just 46 seconds.
"What he did was very impressive," said Denair Coach Bryan Herrington.
Enciso, also a junior, finished second in his weight class and was one of six Coyotes to earn medals at the Mission Oak Scramble tournament.
The other medalists all were at the boys JV or girls varsity levels – junior Christian Vroni (second at 157), sophomore Even Coronel (third at 190), junior Angel Rodriguez (fourth at 126) and freshman Brianna Thomas (fourth at 170 in her first meet ever).
"We wrestled with 13 wrestlers and brought home six medals," Herrington said. "We were one of the smallest schools in the tournament but finished in eighth place with 144 team points."
The early success this season marks a positive turnaround for Herrington, now in his fifth year as head coach, and the Coyotes program.
"When I first started, we had about 10 kids. There was natural attrition and we finished with four or five first year," he explained. "Then COVID ruined the whole thing in the second year. The third year, we had few kids come out, but we never got in the rhythm."
Last year, the program may have hit bottom. "We started with eight or nine kids and finished with two," Herrington said. "It was very discouraging."
Faced with a choice of either walking away or trying to find a new way to generate excitement for wrestling, Herrington opted for the latter. Heeding the advice of Jesse Ruelas Sr. – Jesse Junior's (J.J.'s) father – Herrington started a freestyle wrestling program in March called the Denair Den for kids ages 4 to 17. He got 25 wrestlers of all ages to sign up and they competed in various spring tournaments through June.
At the same time, one other key thing happened – Jesse Ruelas Jr. – who didn't wrestle his sophomore year, decided to return to the sport last spring and began doing well.
"J.J. came back and started showing out," Herrington said. "Not only did he come back, he dragged 10 juniors with him. Now I have 16 kids in the wrestling room."
The result is a reinvigorated program, renewed excitement and the beginning of a youth pipeline that could produce wrestlers for years to come in a notoriously difficult and demanding sport. Wrestling, Herrington will be the first to admit, is not for everyone.
"A little bit has to be a natural ability to tough things out," said Herrington, describing what it takes to be a wrestler. "A lot of it is mental toughness. We talk about that a lot. Wrestling isn't for everybody. It's tough. You have to show up and be willing to get your butt kicked. You have to find it in yourself. I can't do it for them.
"A lot of them found it that weekend in Tulare. They realized why I push them to do one more set in practice. I saw the looks on their faces. I said, 'Do you like that? That's why we work hard – for that feeling.' "
Denair will be back in action this Saturday at the Bulldog Classic in Turlock, where only the four varsity wrestlers – Ruelas, Vroni, Enciso and junior Nick Calderon (215 pounds) – will compete. The following week, the JV wrestlers have a tournament in Livingston. Then, the Southern League dual meet season begins Dec. 20 in Newman against Orestimba.
Herrington said Denair – like many of the Southern League schools – may not be able to have a wrestler at every weight class, at least not this year.
"We're stacked in the upper weights," he said. "We have four at 190, three at 215 and two heavyweights. The bright side is they have plenty of practice partners. Iron sharpens iron. They can beat up on each other. The problem is only one can go to varsity tournaments. But they all can still wrestle at the JV level."