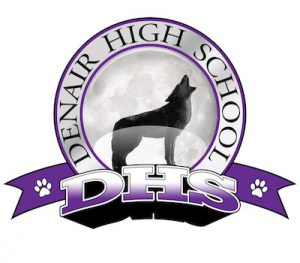 Submitted by Denair High School
The Denair High School boys basketball team picked a bad night to have one of its worst shooting games of the season, falling to Summerville 55-32 on Wednesday in the first round of the Sac-Joaquin Section Division V playoffs.
The Coyotes knew going in they would be physically overmatched by the much bigger Bears. Their best chance to overcome that was to shoot well from the perimeter. Unfortunately, Denair went just 5-for-27 from the 3-point arc while consistently giving up second and third chances on defense because of Summerville's size advantage.
"We were very good defensively for what we have," Coach R.J. Henderson said. "But there were probably eight to 10 possessions where Summerville had three or four shots at it. I think a lot of our guys – even our guards – expended a lot of energy on defense, which affected their legs and their shots on offense."
The only Denair player to find the range from 3-point land was Drew Pritchard, who made 4 of his 11 attempts. The rest of the Coyotes were a combined 1-for-16.
"It was high volume without a lot of reward," Henderson said. "They had some guys who closed out on our shooters who were athletic and long."
Despite its poor shooting, Denair trailed by only eight points at halftime and had narrowed the gap to five with about 3 minutes left in the third quarter. But Summerville built its lead to 11 points going into the fourth period and then gradually pulled away.
Though the season ended with a loss, Henderson and his players achieved one of their goals – to make the playoffs. It was the first time Denair (13-13) qualified for postseason in seven years. The Coyotes – with only two seniors on their nine-man roster – improved dramatically from November to February. They finished second in the Southern League to Mariposa, which earned them the No. 11 seed in the playoffs. Continue reading "Denair Boys Fall to Summerville in Basketball Playoffs" »