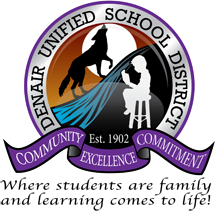 Submitted by Denair Unified School District
With little comment, the Denair Unified School District Board of Trustees unanimously passed a 2018-19 budget Thursday night that projects continued enrollment growth at the lower grades but increasingly expensive state-mandated contributions to employee retirement funds.
The district expects to spend $14,782,733 in the next school year – about $1.5 million less than the current fiscal year that ends June 30. The difference, explained Chief Business Officer Linda Covello, is one-time investments made this year in salary payouts to staff, technology upgrades, textbooks, and teacher training and other professional development.
The 2018-19 budget projects district enrollment at 1,225, broken down this way:
Enrollment is critical for school districts because state funding – their largest revenue source – is based upon how many youngsters there are on each campus.
Continue reading "Denair Trustees OK $14.7 Million Budget for 2018-19" »