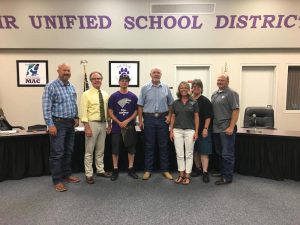 Submitted by Denair Unified School District
The Denair Unified School District is in growth mode again, a fact plainly reflected in the 2017-18 budget passed unanimously by trustees Thursday night.
The $16.2 million spending plan projects the use of more than $1 million in so-called "one-time funds" received from the state over the past few years. Most of that money will be directed to new buildings on the fast-growing Denair Elementary Charter Academy campus, new textbooks at all four campuses, and computers and other technology to better prepare those students.
The budget also reflects a $500,000 Clean Energy Grant received from the state. That money will pay for the energy-efficient lighting and a heating and air conditioning system installed this week at Denair Charter Academy. It also will fund new LED lighting at the Denair High gym and at about half the classrooms there and at Denair Middle School.
DECA must add two classes each year for students in the dual-immersion program, which teaches children in Spanish and English. It started at the kindergarten level in 2015-16 and expands to each grade level as the first students advance. Covello said about $415,000 will go toward purchase and installation of up to 10 portable classrooms at DECA in time for the 2018-19 school year.
Another $430,000 will be directed toward the purchase of new textbooks in Spanish, English language arts and math across the district, Covello said. About $120,000 will be used to replace two computer labs at DECA and $100,000 will buy eight to 10 Chromebook carts (portable computers used across the district).
"It's exciting that we're updating so many things," said Trustee Ray Prock Jr.
The one-time funds have accumulated the past three years, Covello said. By law, they cannot be spent on ongoing expenses such as employee salaries. Continue reading "DUSD Approves $16.7 Million 2017-18 Budget That Includes $1 Million for New Classrooms, Textbooks" »