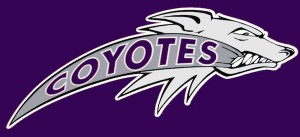 Submitted by Denair Unified School District
For the Denair High football team, the 2014 season was always going to be about more than wins and losses.
It was about a new coach with a whole new playbook. It was about the value discipline and hard work. Mostly, it was about changing a culture and restoring energy and confidence to a program that had lost its way.
Mission accomplished.
The Coyotes – who didn't win a game last year – showed how far they've come with a dominating 62-21 victory over Waterford on Friday night at Jack W. Lytton Stadium.
The victory was Denair's third in 10 games this season and punctuated the improvement that has taken place since new coach Ted Howze and his staff took over last spring.
"I think we played better than a 3-7 team at times," said Howze. "There were at least three more games we should have won, but these kids came a long ways as juniors and seniors.
"Looking back, you'd have to be satisfied. … This is a multi-year project. No. 1, we have to change the culture with kids we have in the program. No. 2, we have to attract kids back to the program and who are at the school and not playing or have transferred out of the district. That's our two big things. I feel like we've done both."
Against Waterford, Denair left no doubt who the better team was with an impressive first half that featured three successful onside kicks in a row.
The Coyotes took the opening kicked and drove 80 yards for a touchdown, burning 8 minutes off the clock. They recovered a squib kicked, scored another touchdown … and then recovered two more inside kicks before Waterford ever touched the ball.
Denair led 27-0 before Waterford ran its first offensive play with about 3 minutes to play in the first half. Continue reading "Coyotes Crush Waterford 62-21 in Season Finale" »