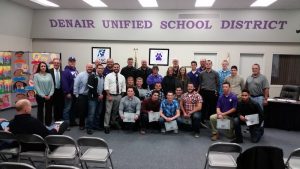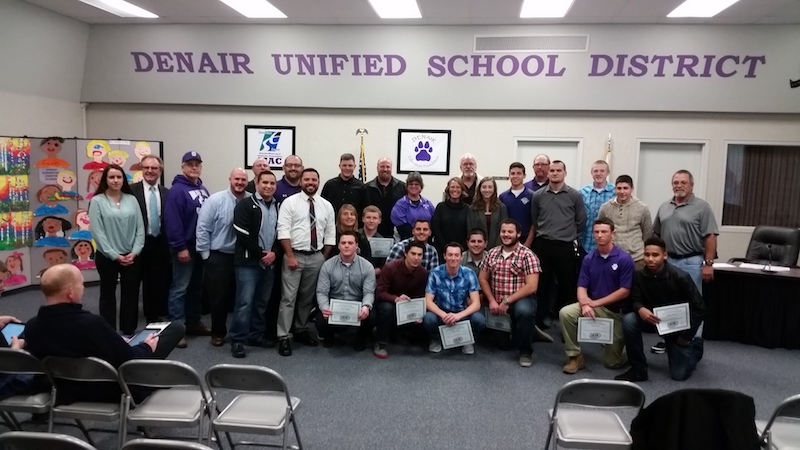 Submitted by Denair High School
A passionate plea from Superintendent Aaron Rosander, the unanimous support of its league peers and an assist from Riverbank was enough Thursday to convince a Sac-Joaquin Section realignment committee to keep Denair High School's sports teams in the Southern League.
The unanimous decision — while not final – is likely to have major influence on the Section's Board of Governors, who will make the ultimate choice later this spring. It also marks a reversal from the committee's recommendation last month to shift Denair from its longtime home in the Southern League to the much smaller Central California Athletic Alliance.
Denair High Principal Kara Backman, Athletic Director Darrin Allen and school Trustee Ray Prock Jr. joined Rosander at the Section meeting Thursday in Stockton.
Rosander read an emotional letter to the realignment committee retracing the perilous financial path the Denair Unified School District has been on the past five years. He told committee members that the district was nearly taken over by the state because its budget was so far out of balance. Its financial condition negatively affected enrollment, he said, especially at the high school level, which had a predictable domino effect on the competitiveness of almost all its sports teams.
"It was a dark time," he admitted.
Fortunately, those days are well behind the district now.
"The district has repositioned and rebranded itself within its region, and a budget that was once insolvent is now healthy, with assets, and growing," Rosander said. "Enrollment that hit a low of 1,249 students a short time ago is now well over 1,300 and climbing.
"Families and students that left the school district are now returning, and athletes who were once considering leaving the district after their eighth-grade school year are now beginning to stay in large numbers. … This year's freshman class exceeded enrollment projections by some 30 students, representing a 10% growth at Denair High School." Continue reading "Sac-Joaquin Section Committee Reverses Course, Votes to Keep Denair High in Southern League" »