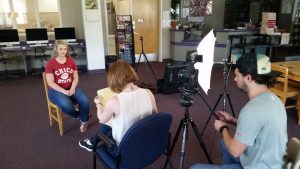 Submitted by Denair High School
The Cannes Film Festival is an international showcase each year for the best films and documentaries. Many of the world's most famous actors, directors and producers are gathered this week along the French Riviera to celebrate their work.
Could tiny Denair be represented next spring? It's possible.
A team of documentarians will spend this week in Denair following three students from their homes through their days at school and back again. The idea is to create a 10- to 15-minute documentary – and perhaps a longer film version – that captures teen life in a typical rural American town.
The idea was the brainchild of Denair High Principal Kara Backman, whose goal is to shine a positive light on the community as well as her campus.
"We want to show the public how we open the doors of opportunity to all kids," she said.
Backman hired GoodCity Concepts from Cleveland to produce the documentary. She is familiar with their work, having seen videos they've created during her time as a national education consultant.
Videographer Henry Ortlip and production assistant Kaytie Leonard arrived last weekend from the Midwest and began work Monday. They will be in Denair through May 20.
Their mission? To portray eighth-grader Connor Prock, junior Adrianna Snyder and senior Alex Flores as authentic representatives of the broader student body and community. The students were selected with the blessings of their families.
"What we're trying tell is the worth of Denair via some inspiring story lines," Leonard explained.
For instance, Prock comes from a prominent farming family with generational roots in Denair. His parents, Joe and Danielle, are both Denair High graduates. His grandfather and uncle both have served on the school board. They operate a dairy with thousands of cows. Connor raises beef cattle, which affords a glimpse into agricultural life. Continue reading "Documentary Team Following 3 Denair Students for a Week" »