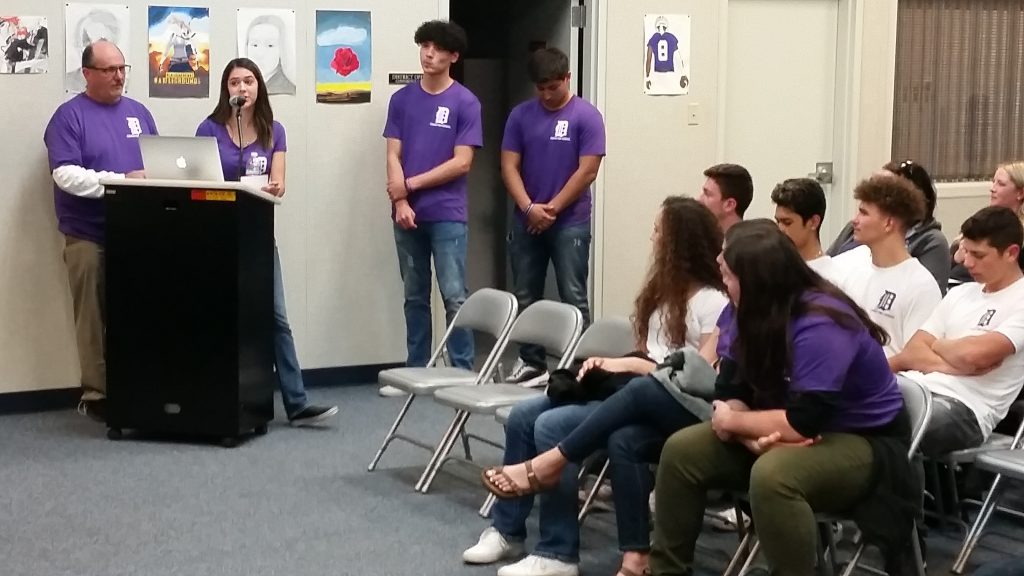 What can athletes at Denair High School learn from Navy SEALs and Olympic athletes? Simple. That the dangers of drinking, drugs, vaping, lack of sleep and poor nutrition are real and their impacts on performance can be measured.
Student-athletes who want to reach their potential in any sport must commit to avoiding behavior that compromises their training, doesn't live up to agreed-upon expectations and serves as a poor model for their peers.
That's the thrust behind the Committed Coyote program, which was unveiled publicly Thursday night to the Denair Unified School District Board of Trustees.
Eleven high school athletes dressed in purple or white T-shirts, plus some of their coaches and three officials from the Stanislaus County Behavioral Health and Recovery Services Agency, appeared before the board.
The back of each T-shirt sported the Committed Coyote creed, which also was shared aloud by the students in a video they produced:
"I am a Denair Coyote, I live to a higher standard than most, I am expected to be a role model for those around me. I exceed the higher standards that I am held to and show what our community is about. We are leaders and show integrity. We inspire the youth while aspiring to be great. We are more than a team, we are family, we work together, we strive together. We empower each other to success on and off the field, with tenacity and dedication, we motivate the people around us."
The audience clapped at the end of the video.
Teacher Darrin Allen, the adviser to the group, said the 20 students currently in the program wrote the creed themselves. "This is from the kids," he said.
Denair becomes the fourth Stanislaus County high school to adopt the program, joining Waterford, Hughson and Patterson. The program is available in all 50 states and mandatory at high schools in four of them – New York, New Hampshire, New Mexico and Illinois.
Continue reading "Committed Coyote Program Coming to Denair High" »