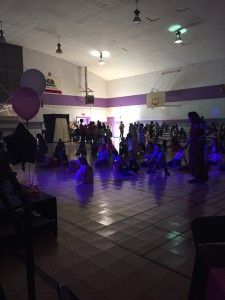 Submitted by Denair Unified School District
Even three days later, students, their families and staff members were buzzing about how much fun they had at Denair Elementary School's first-ever dance event. Featuring "An Evening in Paris" theme, the May 1 event attracted more than 400 people to the school's gym for three hours of Gaelic-inspired gaiety.
Many of the young boys donned nice shirts and ties, and the girls wore pretty pastel dresses. Their parents and older siblings also wore attire that would have been fashionable on the Champs de Elysees or at a restaurant overlooking the Seine River.
The gym was festively decorated with colored lights and small tables with miniature Eiffel Towers, transforming it into a faux Parisian nightclub.
The theme was chosen by the parents' clubs that spearheaded and organized the dance, said Principal Sara Michelena.
"It was super cute and totally age appropriate," she said, giving special thanks to parents Mary Prine, Kalee Lopes and Troy and Debbie Edwards for their hard work in making the night come to life.
Michelena estimated that two-thirds of the 300 families whose children attend the elementary school and adjacent Denair Academic Avenues participated in the party.
There was plenty of pizza and soft drinks, but the highlight clearly was the professional DJ and the dancing. He taught everyone how to line dance, the cha-cha slide and the chicken dance. And when he played "My Girl" by the Temptations, fathers danced with their daughters and mothers with their sons. Continue reading "'An Evening in Paris' Huge Hit For Elementary Students" »