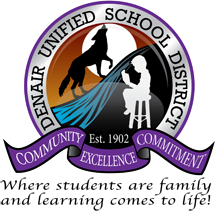 Submitted by Denair Unified School District
Educator and parent Crystal Sousa and retired schools technology support specialist Regina "Reggie" Gomes were elected this week to the Denair Unified School District Board of Trustees.
In results released Tuesday night, Sousa received 382 votes (36.17%), Gomes 290 (27.46%), retired Denair Middle School custodian Charlie Asbill 234 (22.16%) and self-employed businesswoman Tina Gresio 144 (13.64%).
Sousa and Gomes will be sworn in at the Dec. 14 board meeting. They will replace Trustees Sandi Dirkse and Robert Hodges, who did not seek re-election.
The new board members will serve an extra year – until 2022 — thanks to a decision by the current board last month to move trustee elections from November in odd years to November in even years.
The move is consistent with the state's preference to consolidate local elections with statewide voting already scheduled for even years. There is abundant data that shows voter turnout is much higher in even year, when people have more issues and candidates to consider.
The next time that voters in the Denair district will elect trustees is 2020, when the terms expire for the other three trustees – Kathi Filson, Ray Prock Jr. and John Plett.