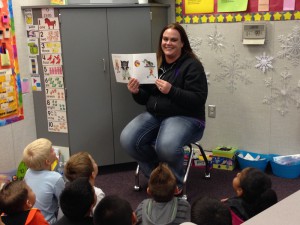 Submitted by Denair Unified School District
Name: Kelly Beard
Family: My husband James and I have been married for 10 years, and we have a 4-year-old daughter who is in transitional kindergarten at Denair Elementary School.
School: Denair Elementary School
Subject taught: First grade
Experience and education: I graduated from Modesto Junior College with an AA. I then attended CSU Stanislaus where I received my BA in liberal studies with a concentration in English. I also minored in speech communications. I have a multiple subject teaching credential as well as a supplemental English authorization. I did my student teaching in Denair and was then hired to teach first grade. I have been teaching for 12 years, all of which have been in first grade at Denair Elementary School.
What most inspires you about teaching? What inspires me the most about teaching is seeing the excitement on my students' faces when they have learned something new. Their excitement for learning inspires me to push myself and grow as a teacher.
What are your biggest challenges as a teacher? The biggest challenge is that there are too many great activities and projects that promote learning and never enough time to do them all!
What is your favorite teaching tool or activity? I love technology! A few of my favorite technology tools are my ELMO (document camera), projector and computer. We live in a technology-driven world and technology is a great way to engage students in learning. As much as I love technology, I also love a plain old piece of paper and a pencil. There is so much that we can learn and create using just the basics like paper and pencil.
How has Common Core affected your classroom strategy? Common Core has increased the amount of student conversations happening in the classroom. Students not only need to master concepts, but they need to be able to explain and defend the reasoning behind their answers. Common Core really allows students to think deeply and have meaningful conversations about their learning. Continue reading "A Class Act! 10 Questions for Kelly Beard" »