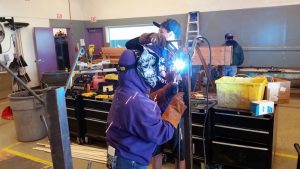 Submitted by Denair High School
Alexandria Sanders wants to be a veterinarian. Diana Soto can't wait to join her family's welding business. Isabella Libby dreams of being a forensic police investigator.
Classes all three girls are taking today at Denair High School not only are helping to prepare them for their potential careers, they are potentially earning the three teens credits to the colleges or vocational schools of their choice.
The career technical education (CTE) courses are part of four unique Pathways programs at Denair. Three Pathways are related to agriculture – ag welding, animal science and horticulture/plant science – and the fourth is criminal justice.
Well more than half of the school's students take one or more of the 18 Pathways classes that are offered. The instructors follow the syllabus and books used at Modesto Junior College, which provides academic oversight and offers two units of college credit for each class.
"It gives students an opportunity to pick a certain discipline they can explore early in their high school careers and, if they like it, hopefully pursue it later in college," said Cherie Gresham, Denair's college and guidance counselor.
Sanders, a senior, has taken Pathways classes in ag all four years at Denair. She's already been accepted at the University of the Pacific in Stockton and still has hopes of landing a spot in the veterinary program at the University of California, Davis. She expects to hear in March.
Friday, she was busy breaking down labels and analyzing the ingredients of various kinds of animal feed in Nicole Hefner's animal nutrition class. She's also enrolled in Hefner's ag leadership course and is actively involved in FFA. Continue reading "Pathways in Ag and Criminal Justice Give 
Denair Students a Head Start on College and Careers" »