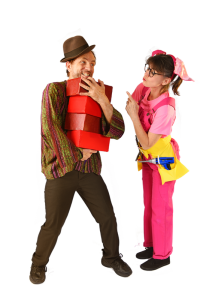 Submitted by Stanislaus County Library
The national touring theatrical troupe Act!vated Story Theatre will be returning to several Stanislaus County libraries in March and April with performances of multicultural folktales, including the perennially popular Three Little Pigs. They will be performing on Saturday, March 24, 2018, at 4:00 p.m., at the Denair Library, 4801 Kersey Rd. For more information, please call (209) 634-1283.
At 30 minites before each performance, the performers will be hosting an acting workshop for kids ages 6 and up. The workshop is limited to the first 12 participants, who will be cast as "guest stars", dress in a costume and perform a scene in the production. No experience is necessary. Call the children's librarian at the number listed above to sign up for the pre-show theatre workshop or RSVP on the Act!vated Story Theatre Facebook page https://www.facebook.com/ActivatedFans/. The performance is open to and enjoyed by all ages. Infants to grandparents will find the show entertaining.
Each performance will feature two of the following :
The Three Little Pigs – the popular British tale about pigs who learn the hard way about foresight and responsibility
Old Joe and the Carpenter – an Appalachian yarn with music about a wise traveling carpenter who knows how to restore the peace between two feuding neighbors
Anansi and the Story Box – an African fable about the famous trickster spider, and how he brought stories to the world through his cleverness
The Shadow Builders – a Turkish legend about two humor-loving masons who inspired a pair of beloved shadow puppet characters.
Act!vated Story Theatre doesn't just tell stories, they "Act!vate" them. Each show incorporates physical comedy, zany props and costumes, audience participation, music, American Sign Language and a unique set, an oversize "book" with pages that turn to reveal scenery.
Act!vated Story Theatre was founded in San Francisco in 1988 by Dennis and Kimberly Goza. The professional touring troupe has performed in 45 states plus Washington, DC and Japan. Last summer they presented 50 performances at libraries across the nation. See http://activatedstorytheatre.com/schedule.html for a complete list of upcoming show dates and locations.
In addition to live performances across the country the Act!vated duo produces "Act!vated Stories" podcast to listen to and publishes folktales for reading out loud that can be found online http://activatedstorytheatre.com/folktale.html.
Additional performances are scheduled for other Stanislaus County Library locations.
Wednesday, March 21, at 2:00 p.m., Keyes Library, 4420 Maud St. (209) 664-8006
Saturday, March 24, at 1:00 p.m., Newman Library, 1305 Kern St. (209) 862-2010
Saturday, March 24, at 4:00 p.m., Denair Library, 4801 Kersey Rd. (209) 634-1283
Tuesday, March 27, at 4:00 p.m., Salida Library, 4835 Sisk Rd (209) 543-7353
Wednesday, March 28, at 3:30 p.m., Modesto Library, 1500 I St. (209) 558-7800
Thursday, March 29, at 3:30 p.m., Ceres Library, 2250 Magnolia St. (209) 537-8938
Monday, April 2, at 2:00 p.m., Oakdale Library, 151 S. 1st Ave., (209) 847-4204
Thursday, April 5, at 1:00 p.m., Hughson Library, 2412A 3rd St. (209) 883-2293
Thursday, April 5, at 4:00 p.m., Riverbank Library, 3442 Santa Fe St. (209) 869-7008
Tuesday, April 10, at 4:00 p.m., Turlock Library, 550 Minaret Ave. (209) 664-8100
Wednesday, April 11, at 3:30 p.m., Patterson Library, 46 North Salado Ave. (209) 892-6473