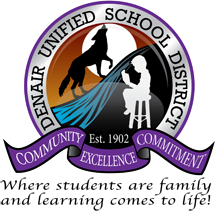 Submitted by Denair Unified School District
The Denair Unified School District will strongly oppose a proposal by a housing developer to redraw the district's boundary to send future students to Turlock schools.
The proposal could cost the Denair district an estimated $1 million in developer fees and about $750,000 in annual state funding based on how many students would live in the new homes, Superintendent Aaron Rosander told the Board of Trustees at Thursday night's meeting.
The boundary initiative is being pushed by Turlock housing developer Ronald Katakis. He wants 90 acres at the northwest corner of Tuolumne and Waring roads to be transferred from the Denair school district to the Turlock Unified School District.
Katakis sent a letter in September to Stanislaus County Superintendent Tom Changnon petitioning for the change. Under the State Education Code, Changnon was required to form a committee to review the plan and recommend for or against it. The 10-person panel of current and former school board members in Stanislaus County will hold hearings Oct. 28 in Denair and Turlock to take public comment.
Rosander said it's critical that the Denair community defend the current boundary – which has been in place for decades – and the integrity of the district's schools. He invited community members to a forum Oct. 15 at 7 p.m. at the Coyote Center to learn more about the threat posed by the plan.
"If enacted, this transfer will cause deep and irreparable harm to Denair schools for many years to come," Rosander wrote in letter sent Friday to committee members.
The property in question is about a half-mile from the Denair schools complex on Lester Avenue, but more than two miles away from Turlock High School.
Katakis' development envisions 129 homes ranging from 2,500 square feet to 4,500 square feet to be constructed on 40 acres. Developers in Turlock are required to pay $3.36 per square foot to school districts to help offset the cost of constructing new facilities and hiring teachers for the new students. With an average home size of 3,000 square feet, the first phase of the neighborhood would generate $1 million in developer fees – and many times more if homes also are built on the remaining 50 acres. Continue reading "Denair Superintendent, District Will Fight Developer's Request to Change Boundary Line" »