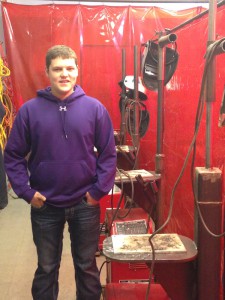 Submitted by Denair Unified School District
Many teens play video games or listen to music to relax. Some join athletic teams or participate in music, speech or drama clubs. Others watch favorite TV shows or hang out with their friends.
Marcus Rocha likes to weld. It's his unique way to unwind while applying the skills he's learned from his father, his teachers at Denair High School and his co-workers at a metal fabrication shop in Turlock.
"I just think of it as relaxing and something you can do by yourself," said Rocha.
Last fall, Rocha recognized a need in Denair High's welding classroom. Teacher Richard Diaz and his students were using old barrels as welding platforms. They were clunky and not as effective as they might be.
There was much room for improvement.
Diaz, the high school's first-year ag teacher, mentioned to Rocha that the class needed an upgrade. Rocha, a junior, researched some ideas for basic welding stands. Diaz provided a pencil sketch with his thoughts. Rocha then built a prototype using scrap metal gathered at his part-time job at West Steel & Plastics, Inc.
The stands are about 6½ feet tall, have rounded tables on which to work, space below to position the welding set, and bars above to wind the cord around and to hang welding masks.
Rocha said it took him about 90 minutes to create the first stand and a little less time to make 10 others. Diaz's stand is "industrial grade" and includes two tables and more space "so students can stand around in a semi-circle and watch me demonstrate," he said. Continue reading "Denair Student Gives Back to Ag Class" »