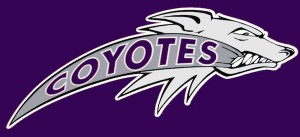 Submitted by Denair Unified School District
Taryn Garza has been accustomed to success in her basketball career. She started for four years Modesto Christian High School, which annually competed for Sac-Joaquin Section and state championships. She earned a scholarship to the University of the Pacific. After transferring to Cal Poly, San Luis Obispo, she helped that school earn a spot in the NCAA Tournament.
Garza knows how to win.
Now, as a first-year head coach at Denair High, she wants to instill that same confidence and ability into her players.
"They're very hard-working and very coachable. They have a lot of potential. I'm excited to teach them the fundamentals," said Garza, who graduated from Cal Poly in May. She had a chance to play professionally overseas, but decided to pursue a coaching career instead.
Garza has no illusions about the work necessary to make the Coyotes competitive in the Southern League. Last year, Denair was 7-14 overall and 3-9 in the conference.
"They're very athletic and we have some speed," she said.
As a player, the 5-foot-11 Garza was known as a fierce defender and physical rebounder. As a coach, it's no surprise that she's stressing some of those same fundamentals. She often can be found scrimmaging with her players in an effort to give them hands-on advice.
"We're working on the principles of defense," she said. "We're working on our rotations."
Returning starters Katie Oliver, Katie Hernandez and Destiny Silva give Garza a foundation upon which to build. But as much as instilling a culture of success into her team, the new coach wants them to enjoy their time on the court. It's a lesson she learned from Faith Mimnaugh, her coach at Cal Poly. Continue reading "New Denair Girls Basketball Coach Brings Culture of Winning to Team" »