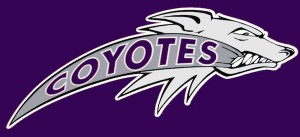 Submitted by Denair Unified School District
A rugged preseason schedule confirmed a couple of things for Denair High boys basketball coach R.J. Henderson.
First, Isaac Starks is one of the best pure shooters at the high school level Henderson has ever seen. "He's got a skill set that's very special," said the coach of his star guard, who is torching opposing defenses for 23.5 points a game.
Second, the Coyotes have the ability to hang with bigger, more athletic teams. Henderson intentionally entered tournaments with larger schools (Turlock, Ceres and Davis, for instance) to challenge his relatively inexperienced team. They have a 6-8 record to show for it, but he's hopeful the tougher competition has prepared them for the beginning of the Southern League schedule next week. "I think our staff has done a good job getting the kids ready," he said. "Here we go. It's 0-0 and a 12-game season now."
Henderson, in his fourth year, believes Denair can legitimately compete for one of the league's three Division 5 playoff berths. Mariposa is the heavy favorite, he said, but everyone else is grouped together. "Honestly, there's one big dog and two through seven are going to compete for two spots."
Whatever chances the Coyotes have begin and end with Starks. The 5-foot-11 senior is responsible for about 75% of the team's offense this season. In addition to his scoring – which represents half the team's average – he also hands out more than four assists a game. He rarely comes off the floor; Henderson sometimes calls time out just to give him a rest.
"He's shooting 50% from the field, 40% from three-point range and in the mid-80s on free throws. He can shoot. I haven't seen too many high school kids in the last 25 years that do what he can do," Henderson said. "He's almost cold-blooded out on the court. He doesn't show a lot of emotion. That's a trait I've seen from better shooters. I think that's a part of his growth as a three-year starter."
No other Denair player averages more than six points a game, so finding teammates who consistently can provide points is important as Southern League defenses load up to stop Starks.
Junior center Dylan Mann, sophomore guard Chase Pritt and senior forward Carson Haringa have spent much of the preseason playing against bigger schools and more physical players. Henderson hopes that baptism by fire pays off when the Southern League schedule begins Tuesday at home against Waterford.
"I think when league starts, the ability levels are more equal," Henderson said. "I hope a secondary scorer pops up. … We're looking for another guy."
Denair had its way with Waterford earlier this season, beating the Wildcats 76-52 on Dec. 5 in the Riverbank Tournament. Denair also owns victories over Dos Palos, Turlock Christian (twice), Millenium of Tracy and Stone Ridge Christian. It went 2-1 in its own tournament Dec. 17-19 to finish third, the Coyotes' best showing in at least five years.
The preseason gauntlet included games against much bigger opponents in the Turlock Tournament. Denair led Turlock by two points after a quarter and was down only four at halftime, before the Bulldogs used their depth to pull away. The next night, Denair led Ceres by 10 points in the third quarter, but couldn't hold on and lost 43-41. The offense went cold against Davis in a 59-28 loss.
"We played a lot of games — 13 games in 18 days. A lot of guys got minutes. Everyone's been very receptive to their roles," Henderson said.
Now, it's a 12-game season. After hosting Waterford next week, the Coyotes go to Mariposa on Jan. 8. Henderson likes the idea of playing the Grizzlies early, then knocking heads with the rest of the Southern League teams.
"If we can be above .500 after we play Mariposa the second time, I like our chances," he said. "The Division 5 playoffs take the 14 best teams. I think we can get one of those spots. I do."