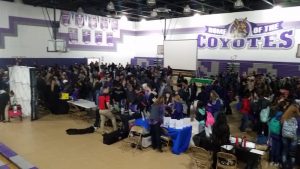 Submitted by Denair High School
Denair High School graduate Randy Jones talked about what it's like being a civil engineer for the City of Turlock. Sarah Jennings of the Paul Mitchell School in Modesto extolled the possibilities of a career in the hair or skin care industries. Explorer Scouts Landon Zamora and Carlos Lerma discussed what it takes to become a sheriff's deputy.
They represented just a handful of more than 20 potential career paths Denair students were exposed to Wednesday morning during an informative and wide-ranging College and Career Fair.
The point, explained Principal Kara Backman, wasn't to direct teens down any particular path, but to open their eyes to many different possibilities. Students from both Denair High as well as Denair Middle School participated.
"We really want kids to figure out what their inner passion is and learn about the kinds of skills they need to develop to attain it," she said.
The presenters ranged from Turlock orthopedic surgeon Scott Calhoun (another Denair graduate) to a myriad of business owners, a real estate professional who also is a life coach, a police detective, someone from the manufacturing industry, dairy and almond farmers, teachers, an auto mechanic, a social worker, a welder and a dental hygienist.
Students were able to sign up for three 20-minute sessions to listen, watch videos in some cases and ask questions.
Jones, Class of 2005, told students how he turned a lifelong love of math and science into a career as a civil engineer. He talked about working together as part of a team to solve problems and create long-lasting solutions.
His latest assignment, he said is an $8 million project to redesign 1.4 miles of West Main Street between Highway 99 and downtown Turlock.
"Most of the homes along the road are 100 years old. The infrastructure also is 100 years old," Jones said. "We're trying to have the least impact on people's lives and build a project that will last another 100 years."
Answering students' questions, he said engineers can expect to earn $75,000 to $140,000 a year after spending up to six years in college. Continue reading "Career Fair Encourages Students to Find Their Passion" »