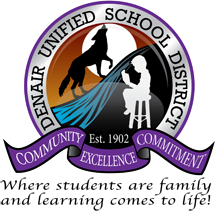 Two experienced educators will join the leadership team at the Denair Unified School District before the next school year starts.
Sara Michelena is the new Director of Elementary Education. She will oversee staff and students at Denair Elementary School as well as the adjacent Denair Academic Avenues campus.
Christine Skinner was hired as Associate Director of Secondary Education and will serve as the vice principal at Denair High School and Denair Middle School.
The hires were formally approved Thursday night by the district's Board of Trustees at their monthly meeting.
Michelena comes to Denair from the Turlock Unified School District, where she was assistant principal of Cunningham Elementary in the 2013-14 school year. Before that, she spent 13 years in the Patterson Joint Unified School District as an elementary teacher, instructional coach and language coordinator, and as assistant principal at Apricot Valley Elementary.
Michelena has a bachelor's degree from California State University, Chico, a teaching credential from St. Mary's College and an administrative credential from California State University, Stanislaus. She is working toward a master's degree in school administration at Stanislaus.
"I was drawn to Denair because I spent the majority of my career in a similar district and knew it would be a great fit," Michelena said. "I was also very fortunate to work with many residents of Denair, in this last year, and they sang the praises of the community and district." Continue reading "Veteran Educators Join Denair Unified Team" »