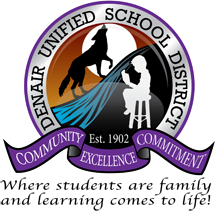 Two experienced educators will join the leadership team at the Denair Unified School District before the next school year starts.
Sara Michelena is the new Director of Elementary Education. She will oversee staff and students at Denair Elementary School as well as the adjacent Denair Academic Avenues campus.
Christine Skinner was hired as Associate Director of Secondary Education and will serve as the vice principal at Denair High School and Denair Middle School.
The hires were formally approved Thursday night by the district's Board of Trustees at their monthly meeting.
Michelena comes to Denair from the Turlock Unified School District, where she was assistant principal of Cunningham Elementary in the 2013-14 school year. Before that, she spent 13 years in the Patterson Joint Unified School District as an elementary teacher, instructional coach and language coordinator, and as assistant principal at Apricot Valley Elementary.
Michelena has a bachelor's degree from California State University, Chico, a teaching credential from St. Mary's College and an administrative credential from California State University, Stanislaus. She is working toward a master's degree in school administration at Stanislaus.
"I was drawn to Denair because I spent the majority of my career in a similar district and knew it would be a great fit," Michelena said. "I was also very fortunate to work with many residents of Denair, in this last year, and they sang the praises of the community and district."
"Sara Michelena comes to us with the energy, experience and love for small schools that make her a terrific fit for Denair Unified," said Denair Unified Superintendent Aaron Rosander.
Michelena looks forward to leading two campuses.
"One of the major challenges will be recognizing when to join the two schools in activities and when to give them the freedom to claim their independence of one another," she said. "Building off of past practices and the input of both communities, I am confident we can work together to be successful."
Skinner has worked at Etna High School in Siskiyou County since 2002. She began there as an English teacher, then worked her way into administrative roles and has been the school's assistant principal since 2012.
She has a bachelor's degree from San Jose State University, teaching credentials from San Jose State and CSU Northridge, an administrative credential from CSU East Bay and a master's degree in educational leadership from CSU East Bay.
"I am pleased to work for Denair Unified because it is a small rural unified district much like the one I am coming from in Siskiyou County," said Skinner, who grew up in Atwater. "I love the San Joaquin Valley and have an appreciation for this agricultural area."
The prospect of working on two campuses excites her.
"I love the idea of site leadership overseeing both the middle and high schools as it will enable clear communication to students and families of the academic and behavioral standards at both sites," Skinner said. "It will also allow for strong vertical articulation of teachers as they shift to the new Common Core standards."
High school and middle school Principal Aaron Delworth said Skinner's primary responsibilities will be student discipline and campus safety, but "in helping run two schools, she will be wearing many hats."
"She shares the same belief as the rest of our administrative team — that all children deserve an education and that all children can be successful learners. It is our job as educators to ensure that this happens," Delworth said. "She takes the initiative to solve issues that arise on campus and is proactive in her interactions with students, staff, and parents."
Michelena and Skinner are expected to begin their new jobs by mid-July.
Two other employees also recently joined the DUSD staff.
Nisa Cox was hired as an account clerk in the business office. She has more than 25 years working in finance offices for the city of Atwater and for two businesses in the city of Merced.
Cindy Ayala began in the superintendent's office as an administrative assistant. She has worked for schools in the Los Angeles area since graduating from San Diego State University in 2006 with a bachelor's degree in Spanish and linguistics.
Denair Unified has about 1,400 students spread across six campuses – a high school, middle school, elementary school, two charter schools and a state-sponsored preschool.