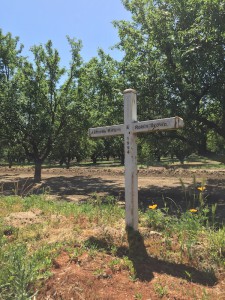 Submitted by Denair Unified School District
July 17, 1994. It's the day when the arc of Michelle Stevenson Fuller's life was forever altered. The day that two of her Denair High classmates died and she was seriously injured. All were passengers in a car being driven by a drunken driver.
In the blink of an eye, so much changed, so much was lost.
Fuller's scars – physical and emotional – remain. So does the white cross on Zeering Road, marking the site of the incident.
Friday morning, Fuller, now 38 and a mother of two, shared her story with students at her alma mater who were not yet born in 1994. Her speech was part of the school's "Every 15 Minutes" presentation, which involved a simulated crash scene, multiple "deaths" and a memorial service to emotionally underscore the dangers of drinking and driving.
But there was nothing made up about Fuller's example.
Not quite two months removed from graduation at Denair, she and some friends were at a party in Turlock on a typical summertime Saturday night. Music was playing. Teens flirted. And alcohol was readily available. Someone in the group knew of another party in Denair. So six teens piled into a four-seat Suzuki Sidekick with a girl who had been drinking.
"It was a solo accident; no one hit us," Fuller said. "She lost control and overcorrected. The CHP estimated we were going 80 mph."
The Sidekick rolled 2½ times and ended up against a tree. One of Fuller's best friends was killed. So was a boy who was a junior and had jumped in the vehicle just to get a ride to the next party. Continue reading "Crash Survivor Delivers Powerful Message On Drinking And Driving" »