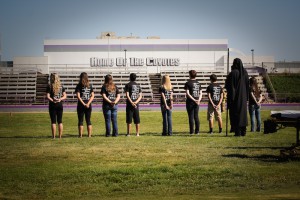 Imagine, if you can, being zipped into a body bag, taken to the morgue and pushed into a cold, dark space. Ashley Ramaley can. It happened to her Thursday.
Imagine, also, being whisked by helicopter or ambulance to the nearest hospital with critical injuries suffered in a horrific car collision. Imagine that all the emergency measures weren't enough, that you were pronounced dead and your family members were brought to identify your body. Jose Fuentes and Yulissa Tafolla can. They had it happen to them Thursday.
And finally, imagine being the cause of so much pain, suffering and grief. Weston Fair can. He was the drunken driver behind the wheel Thursday in an "Every 15 Minutes" simulation played out at Denair High School.
It was a frightening, heart-breaking and, yes, sobering reminder to Denair's students and others of the dangers of drinking and driving.
"Alcohol abuse and drunk driving is an avoidable epidemic that brings untold grief and tragedy to thousands of Americans each year," said Denair Superintendent Aaron Rosander. "It is so critically important that we educate and impact the lives of our teens in powerful and lasting ways that will save lives and create a safer, healthier future culture. … Such activities serve to honor and protect the most wondrous gift of all: life!"
In reality, no one died. But that didn't make the emotions any less real or raw for the 270 students the presentation was directed to, the 30 teens who one-by-one became "victims" throughout the day or the loved ones they left behind.
Thursday was the fourth time in the past 16 years Denair has presented an "Every 15 Minutes" demonstration; the name is derived from the rate at which people were killed by drunken drivers in the early 1990s (it's about 30 minutes today – still too high).
High school staff, the California High Patrol, community members, two nearby churches and an array of emergency responders and medical agencies come together to produce the two-day program. Friday morning, there will be a "memorial service" at the Denair gym to honor the 30 who were "killed." Video clips of parents identifying bodies at the hospital and morgue will be shown. Letters will be read describing those who died. Fair will have a chance to share his remorse.
And Michelle Stevenson Fuller, a 1994 Denair graduate, will offer a poignant reminder of her own. She was badly injured in a single-car, rollover wreck on Zeering Road only months after school ended that killed two of her classmates and injured three others. She knows too well the haunting impact of one bad decision.
"I feel God saved me for a purpose," said Fuller, who was a passenger with a drunken driver. She participates a few times each year in such presentations. It's worth it, she says, if her story helps save even one person. "It's very emotional, especially when I do it at Denair. I've done it there one other time. It really hits home because that's my home turf."
Thursday began like any other day on the Denair campus. But that quickly changed. Starting in first period, the Grim Reaper, accompanied by a CHP officer, arrived in classes where the 30 "victims" should have been. Until then, their classmates had no idea why they were gone. (The students involved and their families have known for two months what was going to happen.)
The patrolman read an obituary announcing the student's death. The sound of a heart monitor turning into a flat-line beep could be heard on the PA system. A black rose was left on the vacant desk. A headstone was erected in a cemetery in the student quad.
By 9:30, 10 teens had "died." Then the school's emergency alarm rang out. All Denair's students were directed to the football stands. A tarp covered something on the field below. Once the students were seated, a loud sound boomed and the tarp was pulled back to reveal the awful scene. Two cars – one driven by Fair, who had been drinking – had been involved in a grinding collision
Ramaley, a passenger with Fair, had been thrown through the windshield. She was already dead.
Fuentes and Tafolla, the occupants in the other car, had suffered critical injuries.
Fair, dazed but uninjured, tried futilely to hide cans of beer and bottles of peppermint schnapps, even as the first Denair Fire Department trucks arrived, followed by an ambulance and CHP cars. Emergency workers quickly determined Ramaley had been killed and turned their attention to Fuentes and Tafolla.
Meanwhile, the Grim Reaper and 10 "ghosts" – the morning's first victims – hovered in the background.
Soon, a PHI medical helicopter swooped in to rush Fuentes to Emanuel Medical Center in Turlock. Tafolla was loaded into the ambulance, also to be taken to Emanuel. Fair, meanwhile, flunked a field sobriety test, was handcuffed and placed in the back of a squad car.
The coroner's van came last. Ramaley's body was removed from the hood of the car and placed into a bag on a gurney. The bag was zipped up and transferred to the van, which slowly drove away.
Some students were crying. Others sat in stunned disbelief.
"There was complete silence," said Denair teacher Darrin Allen, one of the organizers.
Principal Aaron Delworth briefly described the "Every 15 Minutes" concept and dismissed the students back to class. Every quarter-hour for the rest of the day, the Grim Reaper entered another classroom and the somber scene was repeated. More headstones were added to the cemetery, along with letters and remembrances hastily crafted by fellow students. Grief counselors were brought to campus, just in case.
"We hope that by showing students a real-life depiction of the effects of drinking and driving that we as a school, a district, and a community never have to experience this for real," Delworth said. "The timing of the event was perfect for us. We have prom, graduation, and end of the year trips that can all be cut short by one bad decision.
"Our students in the audience did an outstanding job of staying engaged in the event and being very respectful to the process. A program like this catches your attention and really makes you think about your decisions. This event could also be linked to distracted driving (talking on the cell phone, texting, etc.), which is a growing problem with our young drivers."
For the four students – all seniors — in the simulated wreck, the experience didn't stop when they were taken from the field by helicopter, ambulance, coroner's van or CHP car. Videographers followed them, recording emotional images that will be shown at Friday's memorial service.
Before being booked into the downtown Modesto jail, Fair was first shuttled to the morgue – where he was confronted by Ramaley's mother. "She was mad. I just had killed her daughter." At the jail, he was fingerprinted and his eyes and heart checked before he was given a red-and-white jumpsuit "because I was a murderer."
He was ushered down a hallway where real-life prisoners verbally taunted him. He was shown a room housing mentally unstable men who yelled and tossed their own feces against the wall. Finally, he was led to a solitary cell and locked inside.
"I felt like I just wanted to get out," he said, eyes down as he relived the moment. "It was cold. I was scared."
For Fuentes, the ride in the helicopter might have been exhilarating – if it didn't give him motion sickness. Once at Emanuel, he was rushed to the trauma unit, where techs worked to no avail. He was pronounced "dead" at 10:22 a.m. Then came the hard part.
His younger brother and sister had been in the audience at the high school. Now, his older sister arrived to identify his body.
"She's usually pretty emotionless, but she really cried. It really surprised me. I cried, too," said Fuentes.
The loss of their mother six months ago to cancer made Thursday's exercise all the more wrenching for the Fuentes children and their father.
Tafolla also was transported to Emanuel, where she later died of her injuries.
"They kept saying they couldn't hear my heart beat. Then they pronounced me dead," she said of the medical technicians. "They told me to close my eyes and then they brought my mom and two sisters in. They were all three rubbing me and I felt bad. My mom was grabbing my arm and I wanted to squeeze her back, but I couldn't."
One of the most difficult roles Thursday was played by Ramaley, who was twice zipped into a transparent body bag and had her first encounter with the morgue.
The first body bag experience lasted about 20 seconds on the field, she said, and wasn't frightening. She rode in the front seat of the coroner's van on the way to Modesto, where she was given a quick tour of the morgue and was exposed to the very real smell of death. Then her mother, having been notified of her daughter's death, arrived.
"They zipped me up in the body bag and put me in the freezer," said Ramaley. "There were actually other dead people inside. It was really weird. It only lasted about 20 seconds."
She said her mother, Sarah, "freaked out" when she saw her daughter's body. Like Fuentes and Tafolla, Ramaley had been coached not to react.
"She started crying and then yelling at me. 'Why did you get in the car with a drunk driver?' It was really hard. .. She had to say my full name and birthdate, and at first she said it wasn't me. … She was bawling and I had tears in my eyes, but I was trying to be still. Afterward, they let us hug."
All four students involved in the crash scene admit to being in situations where peers have had alcohol, then gotten behind the wheel or into a car with a driver who has been drinking. They say Thursday's experience will influence how they handle those situations in the future.
"Personally," said Fair, "I wish everyone could go through what we did."
Photos compliments of Treadwell Photography.