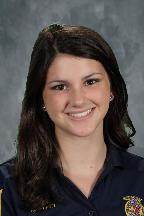 Unlike most of her FFA peers, Katelynn Lawson did not grow up on a farm or ranch. Her father is a businessman in Ceres; her mother is a teacher in Turlock.
"I have an accidental life in agriculture," said Katelynn, a senior at Denair High School, who was one of six nominees this year for a statewide FFA scholarship.
Katelynn, 18, may not come from traditional agricultural roots, but that has not diminished her enthusiasm. She has shown rabbits and pigs at the Stanislaus County Fair and at national shows the past four years. She has been the FFA president at Denair High School the past two years while taking every ag-related class taught by teacher and FFA adviser Bill Douglas.
"She's definitely taken a strong interest in agriculture and that's not always there for students who don't have a family connection to a farm," said Douglas.
Katelynn's activities don't stop with her affinity for ag. She's been a Girl Scout for 13 years, a cheerleader at the high school and is the student representative on the Denair Unified School Board.
"She is very outgoing, very involved in the campus," said Denair High Principal Aaron Delworth. "She's very mature and confident. I think what we're seeing from her right now is just tip of iceberg. She's going to go a long way in life."
Though Katelynn was not among the award winners announced Sunday night at the 86th California State FFA Leadership Conference in Fresno, she already has one scholarship in her pocket – $1,500 from the Turlock Chamber of Commerce. She intends to use it next year just down the road at California State University, Stanislaus. Her focus in college?
"I applied as a business major," he said, "hopefully with a focus on ag."