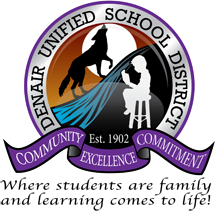 Denair Unified School District's Board of Trustees recently took action to approve a new logo. A special thanks goes out to Denair High School art teacher,  John Stavrianoudakis, for his exemplary graphics work and also to site principals who worked with staff to provide Superintendent Aaron Rosander with the necessary information to create this logo. The new symbols retain much of the District's history — all while pointing into a fresh future.
The descriptors on the ribbon reflect the core values that are important to Denair's schools: Community; Commitment; Excellence.
Where students are family and education comes to life! The newly created catchphrase sends forward a clear and sincere message that Denair schools are a unique and wonderful educational choice for students. In Denair schools students, experience high quality-high interest education in a warm, friendly and personalized environment.