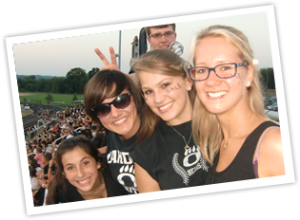 World Heritage High School Student Exchange Program is one of the most respected international organizations dedicated to education through student exchange. Hosting a World Heritage foreign exchange student allows families like your own to experience the fun of getting to know another culture without ever having to leave your backyard! As a World Heritage host family, you will gain not only priceless memories with your new "son" or "daughter", but also friendships that will last a lifetime. As your World Heritage student becomes a part of your life, he or she will also gain a deeper appreciation for both your culture as well as his or her own culture.
You can host an exchange student for the 2014-2015 school year with World Heritage and make a difference in the life a 15-18 year old student from many countries in Europe and Asia. Hosting an exchange student will enrich the lives of your family and allow you to teach a foreign student about American values and culture. You can choose a student based on your interests and activities.
World Heritage is looking for host families for this 2014-2015 academic year. The requirements are simple: provide a bedroom (with a bed, dresser, and a desk), have access to a bathroom, provide basic meals, and have English as the primary language spoken in the home. Students come with their own money and insurance.
The time to act is now! If you would like more information on hosting an international student, please contact  krista@world-heritage.org, call 1-800-888-9040 or go to the World Heritage web site and apply today!