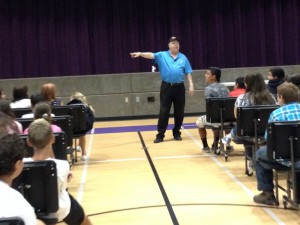 Submitted by Denair Unified School District
There were plenty of laughs and more than a few giggles during comedian Pat Hurley's presentation to Denair middle and high school students Tuesday morning. His riffs on teen-age sleeping patterns and dirty bedrooms, horror movies and even nursery rhymes entertained both audiences on their first day of school.
But laced within the humor were six serious messages that Hurley has shared at more than 9,000 campuses across the country. They are the qualities, he says, that separate merely good schools from "championship schools."
Having a clean campus
Friendliness
Teamwork
Responsibility
Respect for diversity
Giving back to the community
Hurley told students that it doesn't matter how big their school is or where it's at, those six characteristics don't change. He should know. He grew up in Atwater in the 1950s and '60s, and then moved to metropolitan areas where he won three Emmy Awards for his work with children's television. He now lives in Orange County and writes mystery novels in addition to his campus presentations.
"It's not the size the school, it's the quality of the school," Hurley told about 400 high school students in the gym.
Earlier, talking with about 240 middle school students in their multipurpose room, Hurley said one of his measures of any campus is how clean it is.
"That's the first thing a visitor knows when he walks on here. You can eat off this concrete, this floor, this grass. It's not a nuclear waste dump," he said. "You always want to be proud of your campus. It's your workplace. … When you have self-respect, you have school respect."
Next, he told his audiences, is the importance of being friendly. He shared personal stories about befriending a boy in high school who was confined to a wheelchair by polio and, as an adult, hugging a man dying of AIDS.
"The greatest gift you can give someone is a smile. I want you to help each other smile every day," Hurley said. "When adults come visit your school, I want them to walk away and say, 'This is the nicest group of kids I've ever seen.' I want you to touch other people's hearts."
He also stressed the importance of teamwork, of working together instead of fighting or gossiping. "Help each other. Let's pick each other up. Isn't that what social networking should be about?"
Hurley called the classroom a student's workplace and equated the responsibility of doing well academically to having a job. He gently chided students who make up excuses for not doing their work, saying if they were adults "they'd be fired."
"Teachers are not your nannies. They're here to do a professional job and prepare you for the rest of your life," he said. "When you're in class, that's not your social hour. You have plenty of time to play. When you're in your work station, you work hard. … You work first and play second. That's the way you succeed in life."
He told the high school students that the lifetime earnings differential between a college graduate and someone who doesn't earn a four-year degree can be $1 million or more. He also said more girls are going to college now than boys. "Guys, we've got to step it up."
Wearing a purple Denair baseball, Hurley talked about the power of words, the pain caused by bullying and the need to respect diversity in all its forms. He related the story of a teen-age girl in Southern California who died of a heart attack related to an eating disorder caused, in part, by verbal bullying.
"Why did she stop eating completely?" he asked a hushed audience. "Because girls from her school told her she was fat. They made fun of her. She wasn't accepted. Bullying is not just with fists. … Let's respect people who don't look like us, who don't talk like us."
Finally, Hurley spoke of giving back to the community. He shared the example of students at a Florida high school who invited senior citizens to their prom – complete with limo rides and corsages. He challenged students to "quit worrying about yourselves" and come up with a community project for the whole town. "How cool would that be?" he asked.
The response from students was overwhelmingly positive.
"He talked about everything that happens in high school," said a Denair High School senior.
The anti-bullying message hit home with Denair Middle School eighth-grader Alyce and seventh-grader Trey, while the idea of inviting grandparents to a dance resonated with sixth-graders Brielle and Anthony.
"We should do that here," said Anthony. "It would be fun."