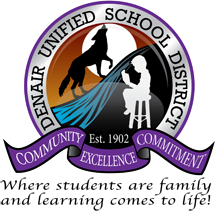 Submitted by Denair Unified School District
Though the challenge of growing enrollment remains, the financial condition of the Denair Unified School District continues to improve.
District trustees and the public were briefed at Thursday night's board meeting about Denair's budget status, which required a loan of $1.3 million two years ago to avoid state intervention. Those dark days are well behind the district thanks to a series of necessary austerity measures, including an 8% pay reduction for teachers.
The district finished the 2013-14 fiscal year with a $73,000 deficit, much lower than earlier projections that were four times higher. In 2012-13, Denair operated at a deficit of $709,000. That's when the Stanislaus County Office of Education stepped in with a loan to avert state takeover of the district.
The loan has since been repaid, a new administrative team is in place, staffing has been calibrated to match current enrollment and morale across all six campuses has markedly improved.
The revised 2014-15 general fund budget of $8.2 million anticipates a revenue surplus of $331,791, Chief Business Officer Linda Covello told Denair trustees Thursday. That will help to replenish the district's reserves.
"I'm pleased that the budget report shows that our fiscal recovery plan remains on a proper and positive trajectory," said Superintendent Aaron Rosander, who took over in February. "Based on this report, it appears that Denair schools may well be out of the red and into the black by or before the end of next school year. This is indeed good news for DUSD."
Douglas Crancer, a school funding expert sent to Denair by the state, said while there are still uncertainties regarding state funding and future pension costs, "We're definitely on our way to gaining fiscal health."
One of the key revenue streams for any public school district is based upon average daily attendance, or ADA. The state pays Denair an average of about $7,600 per student enrolled in the district.
Denair's enrollment this year is projected to be 1,287, down from 1,353 in 2013-14. The district's enrollment peaked at 1,553 students in 2011-12.
"Growing enrollment is a priority for this district," Rosander acknowledged. "We have excellent teachers and rigorous, relevant academic programs in place at all our campuses. Children will receive a quality education at Denair schools and parents can be assured that we will continue to build and expand on our commitment to excellence."
In other action Thursday night, trustees:
•  Approved the 2015-16 school calendar. Classes begin Wednesday, Aug. 12 and wind up with middle school promotion on Thursday, May 26, and high school graduation Friday, May 27. Key breaks are Nov. 23-27 for Thanksgiving week, Dec. 21 to Jan. 1 for the holidays, Feb. 12-15 to observe Lincoln's and Washington's birthdays, and spring break March 25 through April 1.
•  Recognized the volunteers who painted and spruced up Jack Lytton Stadium before the first football game. Booster Club leaders Dan and Carissa Borba and students Edwin Flores, Alex Flores, Brenden Curnow, Justin Steeley, Brandon Steeley, Anthony Martinez, Selena Ortiz, Ivonne Zacarias, Henry Fuentes, Adelyn Dunn, Malia Martinez, Kaylie Bowden, Heather McDougall, Taylor Thompson, Juan Barrera, Eric Borba, Isaac Stark and Dom Silva painted the goal posts, some purple paws on walkways and various doors. Athletic Director Darrin Allen helped organize the work. Superintendent Aaron Rosander also thanked Denair Lumber and Axiom Construction for their donations of materials and labor to repair the steps and bleachers at the stadium.
•  Heard a brief update by Rosander about preliminary discussions related to the unification of Denair Elementary School and Denair Academic Avenues in time for the 2015-16 school year. The conversations will be led by elementary Principal Sara Michelena.
•  Heard a report from student representative Kaelee Martinez, who shared that the theme for the homecoming event Oct. 24 will be "Super Heroes." The Coyotes' football team plays Ripon Christian that night.