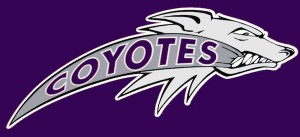 Submitted by Denair Unified School District
In trying to change the culture of the Denair High football program, Ted Howze knows that winning is important … but that learning how to win is a close second.
Friday night's 15-8 overtime loss to Delhi is a prime example.
The Coyotes twice were within a few yards of the tying or go-ahead scores, but came away empty both times. In a physical game where defenses dominated, that made all the difference.
"Part of the situation with our team is we're still trying to figure out how to win close games," said Howze, a first-year coach who took over a team coming off a winless season.
Building a belief among his players that they can compete – and win – has been a priority for Howze and his staff. What the Coyotes lack in size or numbers (just 22 varsity players), they make up for in determination and hustle.
Two victories in their three preseason games were a solid start in preparation for the Southern League schedule, which began Friday against Delhi.
Denair capitalized on a turnover to score its only touchdown late in the first quarter. The Coyotes recovered a fumble on the Hawks' 34 yard line. From there, they used their multiple-option run offense to move inside the Delhi 10. On the ninth play of the drive, quarterback Dominyc Silva reached the end zone on an 8-yard run.
A successful two-point conversion gave Denair an 8-0 lead, which it maintained at halftime.
Delhi tied the score on the first play of the second half when quarterback Garret Thomas completed a short pass to Sergio Hernandez, who broke two tackles on his way to a 49-yard touchdown. The Hawks ran for a two-point conversion to make the score 8-8.
Denair had an excellent chance to regain the lead late in the third quarter. The Coyotes drove to the 3 yard line, but committed back-to-back penalties that cost them 15 yards and stalled their momentum. They eventually turned the ball over on downs on the 5 yard line.
"We shot ourselves in the foot," said Howze. "That really affected us psychologically."
So did injuries to defensive end and backup quarterback Trenton Howze and running back Alex Valle. Howze was forced from the game in the first quarter after being speared in the back. A personal foul penalty was called, but the Coyotes had to play the rest of the game without him. Valle, the team's second-leading runner, was slowed by a right ankle sprain.
"It changed our whole offensive strategy when we were down to only Dominyc at quarterback and Alex was hurting," said Ted Howze. "It turned into a field position game."
Denair's defense kept Thomas and the run-oriented Delhi offense in check, limiting the Hawks to less than 150 yards.
"Our defense played stellar. We're really coming together as a defense," praised Howze, who singled out nose guard Richie Richards for his efforts. He had five tackles, a quarterback sack and was a force the entire game.
"He's a beast, and he's 5-foot-9 and maybe 165 or 170 pounds soaking wet," Howze said. "He was absolutely a wrecking ball. He's been playing like a man among boys."
The game went into overtime with the score at 8-8. In OT, each time is given a chance to score from the 10 yard line. The game continues until one team is stopped while the other scores.
Delhi got the ball first and leaned on Thomas, who ran 7 yards on the first play and then scored on the second. The Hawks (2-2 overall, 1-0 Southern League) kicked the extra point to make it 15-8.
Denair (2-2, 0-1) nearly tied it. Austin Hughes got them inside the 1 yard line, but on fourth down, the Coyotes came up short when a runner was caught behind the line of scrimmage.
"We should have won that game," said Howze. "Even though we didn't, it was another good, tight, entertaining game."
This week, Denair goes on the road to face Mariposa (2-2, 1-0), which beat Waterford 41-16 Friday night. With five of his 22 players nursing injuries, Howze expects the Coyotes to be in for another battle.
"I have no idea how many kids I'll have," he said. "But we'll play strong team defense and we're going to run the ball and try to keep the clock moving. We'll keep it close and try to steal one late."
In the junior varsity game, Denair raised its record to 3-1 with a 21-12 victory over Delhi.
Follow the Denair football team on Facebook.