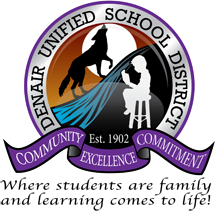 Submitted by Denair Unified School District
All high school students and their parents are invited to attend College Night on Thursday, when representatives from three area campuses will share information about their schools.
The free session is scheduled for Thursday, October 2, 2014, 6:00 to 7:30 p.m., at the Denair High School theater.
On hand will be officials from the University of California at Merced, California State University, Stanislaus and Modesto Junior College.
They will discuss the application process, how to choose a college and the differences between campuses, academic and vocational programs, and scholarships and financial aid.
Denair Unified School District officials encourage all families to attend and remind parents it's never too soon to begin thinking about a college education for their children.
In the course of a 40-year working career, the College Board estimates that someone with a bachelor's degree will make 66% percent more than someone with only a high school diploma. Those who receive an associate of arts degree from a community college are estimated to make 24% more than someone with just a high school education.
The college-going rate is lower in Stanislaus County than in many parts of California and the country. The 2010 Census estimates that 7.2% of the county's 520,000 residents have an AA degree, 10.9% have a bachelor's degree and 5.4% have a graduate degree or higher.