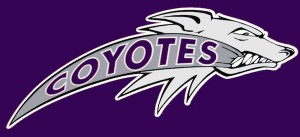 Submitted by Denair Unified School District
Turnovers and injuries were too much for Denair High's football team to overcome in a 47-13 loss to Mariposa on Friday night.
Mariposa returned two of the Coyotes' five fumbles for touchdowns to help build a commanding early lead. Denair's lack of depth also was exposed when a number of key two-way players were banged up and missed all or parts of the game. The Coyotes only have 22 players on their roster.
"The bottom line is you can't win a football game when you turn the ball over four times," said Denair coach Ted Howze.
The Coyotes (2-3) fell to 0-2 in the Southern League after winning two of their three non-league games.
"I felt like we moved the ball early, after they scored their first touchdown," Howze said. "But then we fumbled on the 20 and they returned it 80 yards for a touchdown. The harder our kids pressed, the more mistakes they made.
"Injuries limited us and turnovers killed us."
Running back Alex Valle lasted just four plays before reinjuring his ankle. Quarterbacks Dominyc Silva and Trenton Howze also missed time during the game after hard hits.
The Coyotes scored both their touchdowns in the fourth quarter.
Silva found Brandon Steeley on a pass across the middle and Steeley outran the Mariposa defense to the end zone. A few minutes later, Silva intercepted a pass and returned it 13 yards for another score.
This week, Denair plays at Gustine (4-1 overall, 1-1 Southern League), which is coming off a 21-10 victory over Waterford.
"I've seen a little bit of film on them from earlier this year. I think we can be competitive," Howze said.
The results were more positive from Denair's junior varsity team, which shut out Mariposa 20-0 to remain unbeaten after two league games and raise its season record to 4-1.
"What they're doing bodes well for the future of the program," Howze said.
Follow the Denair football team on Facebook at https://www.facebook.com/groups/Denairhighschoolfootball/