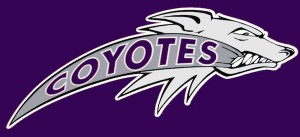 Submitted by Denair Unified School District
The excitement of an afternoon homecoming celebration gave way to the harsh reality of a tough football season Friday night for the Denair High team.
Outmanned and physically overmatched, the Coyotes quietly were beaten 31-0 by Ripon Christian before an enthusiastic crowd at Jack W. Lytton Stadium.
A week after nearly upsetting Orestimba on the road, Denair saw the accumulation of injuries and roster attrition undermine its chances against Ripon Christian. The Coyotes suited up just 19 players, five of whom were nursing various aches and pains that kept them from contributing to the fullest.
Despite another gritty effort, the outcome wasn't in doubt after the first quarter. Denair trailed 31-0 at halftime after RC quarterback Billy Marr threw four touchdown passes. With a running clock the entire second half, neither team found the end zone again.
The loss dropped the Coyotes to 0-5 in the Southern League and 2-6 overall with two games left in the season – this week at league-leading Le Grand (6-2, 5-0), followed by a home game against Waterford (1-7, 0-5).
"Le Grand is a quality team with quality athletes," assessed first-year Denair coach Ted Howze. "We've got our hands full."
Though the on-field results haven't always reflected it, Howze said the program has improved this season after going winless a year ago.
"We continue to work on getting better. We continue to prepare our underclassmen for next year. And we tell our seniors to have fun these last two games," said Howze.
The junior varsity team, in particular, offers realistic hope for future. The Coyotes defeated Ripon Christian 12-7 Friday night, raising their record to 3-1-1 in the Southern League and 5-2-1 overall. Since Waterford does not have a JV team, Howze plans to promote all the sophomores to the varsity for the final game of the season.
"It's coming," he said of another victory at the varsity level. "The work ethic is there; you can see it."
Follow the Denair football team on Facebook at https://www.facebook.com/groups/Denairhighschoolfootball/