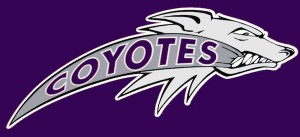 Submitted by Denair Unified School District
Keep it simple. That was the theme last week at Denair High's football practices. It almost paid off in another agonizingly close loss Friday night against powerful Le Grand.
In a game played in a steady rain, the short-handed Coyotes competed bravely until a late score by Le Grand sealed its 21-12 Southern League win.
Denair (2-7 overall, 0-6 SL) and Le Grand (7-2, 6-0) are at opposite ends of the league standings. But the Coyotes gave the Bulldogs a scare on a wet Halloween night, threatening to take the lead until a costly fumble recovered by Le Grand in its own end zone late in the game.
"We played a helluva football game," said Denair coach Ted Howze, whose 18-player varsity roster was thinned when one player got the flu and couldn't play and another was injured during the game.
Even before those two setbacks, Howze and his staff decided last week that the Coyotes needed to refocus on some basics – especially on defense – to regain their competitive edge.
"I really stripped the defense down to its core elements. … We simplified everyone's responsibilities," Howze explained.
The results were evident during a tight first half in which Le Grand built a 7-0 lead. Denair missed a chance to tie the game in the second quarter when it lost the first of its two key fumbles inside the Le Grand 10 yard line.
"Our team played flat out stellar football in the first half. The best we played all season," Howze said.
Howze singled out defensive ends Dominyc Silva and Trenton Howze, along with nose-tackle-turned-cornerback Richie Richards, as key to holding Le Grand's offensive in check. Richards has been a terror all season on the line, but moved outside Friday with no practice after starting cornerback Weston Fair came down with the flu and couldn't play.
"The real heroes of the game were Trenton and Dominyc at defensive end. They contain everything. The two of them are like putting lids on a jar," Howze said. "They have been the heart and soul of our defense all season long."
Trenton Howze, however, left with a dislocated left shoulder in the second quarter, impacting Denair's depth on both sides of the ball. Like Silva, he also is one of the key members of the Coyotes' multiple-direction offense.
Still, Denair cut Le Grand's lead to 14-6 late in the third quarter on Austin Hughes' short touchdown run and had a chance to tie the game in the fourth period when Silva also scored on a short run. A two-point conversion pass was dropped, though, leaving the score at 14-12 Le Grand.
On its next possession, Denair again marched down the soggy field behind Silva and Hughes. But the Coyotes lost the handle on the rain-slickened ball inside the Le Grand 5 yard line. The ball squirted into the end zone as players from both teams tried to fall on it.
After a mad scramble, Denair appeared to have recovered for the go-ahead touchdown, but the officials ruled Le Grand had possession when the whistle blew. The Bulldogs then iced the game with a long touchdown run after a Denair defender slipped.
"Offensively, we absolutely pounded them, but we had two turnovers inside the red zone," Howze said. "The fumbles killed us and saved them."
Denair will be able to bolster its roster depth in the season's final game Friday night at Jack W. Lytton Stadium against Waterford (1-8, 0-6).
Waterford doesn't have a JV team, so Howze expects to bring up a dozen or so players from Denair's junior varsity squad this week. The Coyotes' JV team lost 20-14 to Le Grand on Friday to finish with an overall record of 5-3-1 and a 3-2-1 mark in league play.
"I think this week's game is going to be very competitive," Howze said. "Waterford, like us, is a much better team than its record shows."
Follow the Denair football team on Facebook at https://www.facebook.com/groups/Denairhighschoolfootball/