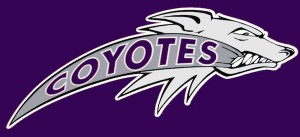 Submitted by Denair Unified School District
For the Denair High football team, the 2014 season was always going to be about more than wins and losses.
It was about a new coach with a whole new playbook. It was about the value discipline and hard work. Mostly, it was about changing a culture and restoring energy and confidence to a program that had lost its way.
Mission accomplished.
The Coyotes – who didn't win a game last year – showed how far they've come with a dominating 62-21 victory over Waterford on Friday night at Jack W. Lytton Stadium.
The victory was Denair's third in 10 games this season and punctuated the improvement that has taken place since new coach Ted Howze and his staff took over last spring.
"I think we played better than a 3-7 team at times," said Howze. "There were at least three more games we should have won, but these kids came a long ways as juniors and seniors.
"Looking back, you'd have to be satisfied. … This is a multi-year project. No. 1, we have to change the culture with kids we have in the program. No. 2, we have to attract kids back to the program and who are at the school and not playing or have transferred out of the district. That's our two big things. I feel like we've done both."
Against Waterford, Denair left no doubt who the better team was with an impressive first half that featured three successful onside kicks in a row.
The Coyotes took the opening kicked and drove 80 yards for a touchdown, burning 8 minutes off the clock. They recovered a squib kicked, scored another touchdown … and then recovered two more inside kicks before Waterford ever touched the ball.
Denair led 27-0 before Waterford ran its first offensive play with about 3 minutes to play in the first half.
"We had seen in game planning that other teams had been successful (with onside kicks), so we just kept doing it," Howze said.
Waterford (1-9 overall, 0-7 in the Southern League) scored just before halftime to make it 34-7, but Denair pulled away with two touchdowns each in the third and fourth quarters.
The Coyotes' young offensive line consistently opened up huge holes for Alex Valle, Austin Hughes and the other runners.
"They really gelled as a unit," Howze said of his blockers.
Denair finished the game with 61 carries for 458 rushing yards and nine touchdowns. Valle ran for 131 yards and scored four times, while Hughes had a TD and 113 yards to push him over 1,000 yards for the season.
Quarterback Dominyc Silva was 5-for-5 passing with a TD to Richie Richards as Denair piled up more than 500 total yards on offense despite a running clock in the fourth quarter.
Howze singled out three seniors — Silva, his own son Trenton, and Hughes – for their leadership and the examples they set to their teammates.
"I was so impressed by Dom's work ethic. … He showed up every day, worked his butt off and played outstanding football for us," Howze complimented. "He's very mature. He grew up on the football field.
"Trenton had a bad shoulder … played injured all season, but would not come off the field. I think he was a real example to his teammates. … I hope we can instill that toughness into the other kids.
"And Austin played with sports hernia much of the year."
Waterford didn't have a JV team, so Howze promoted about a dozen players from Denair's junior varsity squad to the varsity for Friday's game. All of them gained valuable experience to add to the success they already had achieved (5-3-1 overall record, 3-2-1 in the Southern League).
"Coaches spent hours developing game plans each week and it showed on Friday nights," said Athletic Director Darrin Allen. "Athletes were disciplined and knew their roles to be successful each week.  The foundation has been built for future years because we were successful at both levels."
Howze said there are many reasons for optimism.
"We told our players Friday night that the next season starts now," he said. "Our weight room was full on Sunday night. … I've already heard that we may have six to eight kids coming back from Turlock and Pitman next year. Most are freshmen who are going to help the JV team.
"We feel like we're making progress. Everybody's been excited. … I think everybody sees we're at a balance point and moving in the right direction. The future is bright."
Follow the Denair football team on Facebook at https://www.facebook.com/groups/Denairhighschoolfootball/