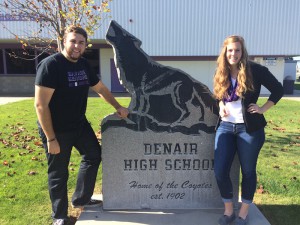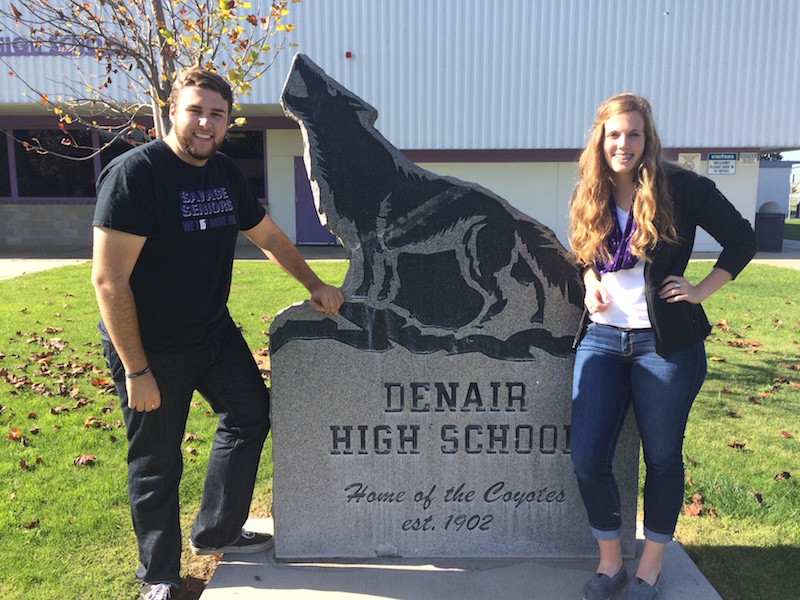 Submitted by Denair Unified School District
Two of Denair High School's brightest students have gained early acceptance into colleges in Oregon.
High-achieving seniors Anna Dirkse and Joel Thornton applied at multiple universities and likely would have been welcomed at many campuses. But both say they were thrilled when their first choices offered spots in next fall's freshmen class early on in the process.
Dirkse, 17, was accepted at George Fox University in Newberg, about 25 miles south of Portland. It is a small, private Christian college known for its engineering program, though she's leaning in other directions.
"I don't know what I'm going to major in – maybe arts or communications or English," said Dirkse, who has a 4.43 grade point average. "I just applied to an honors program there that studies great works of literature and how they affect culture."
The university's acceptance letter also included a $15,000 merit scholarship.
Thornton, 18, will attend Oregon State University in Corvallis, about 60 miles south of where Dirkse will be. He wants to become a veterinarian.
"I ultimately wanted to go to Oregon State. I think they're the No. 3 school in nation for biology and that's what I'm looking to major in," said Thornton, who carries a 4.0 GPA.
Denair High Principal Aaron Delworth called Dirkse and Thornton "model students" and said their academic success can be an example for their younger peers.
"These two students exemplify the ideology that hard work and determination pays off in the end," he said. "Students can, regardless of the high school they attend or the odds that stand before them, attain their dreams if they push themselves and take advantage of everything that is placed in front of them.
"Joel and Anna personify this. They have always taken the most rigorous courses, have been involved in a number of activities both on and off of campus, have been involved in their community, and have always set goals for themselves."
Dirkse and Thornton credit the advanced placement courses available on campus and online for preparing them for college. Dirkse has taken AP classes in English, statistics and art at Denair and a history course online. Thornton has taken AP English.
"My AP stats class has really prepared me," said Dirkse, who also complimented Denair's teachers. "They're really supportive."
Thornton credited the "personal" contact he has with his instructors as being a key his education.
"I feel like we have more time with them here. If we need to ask a question, we're not scared to do so," he said. "They're pushing us toward college."
In addition to excelling in the classroom, Dirkse and Thornton are active on campus.
Both are members of the Drama Club – Dirkse as the stage manager and Thornton as the leader of the improvisation group.
"Anna is the boss," he joked. "You don't mess with her."
In addition, Dirkse plays clarinet in the band and, like Thornton, is involved with the PHAST (Protecting Health and Slamming Tobacco) Club.
Thornton also is the student body president and is part of the Leadership Academy affiliated with the Stanislaus County Office of Education.
"I can't say enough how proud I am to call them my students," Delworth said.
Anna's parents are Sandy and Jeff Dirkse; Joel's are Kate and Gary Thornton.