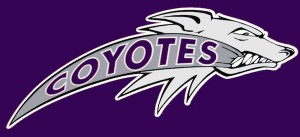 Submitted by Denair Unified School District
The gym is a busy place these days at Denair High School. The boys and girls basketball teams plus the wrestling team all have begun their winter schedules with an eye toward preparing themselves to compete for Southern League titles in January and February.
Boys Basketball
Despite a 10-player roster, third-year coach R.J. Henderson is confident the Coyotes have improved enough to contend for one of the league's three spots in the Sac-Joaquin Section playoffs.
"I'd like to think the last week or two of the season we'll be playing for something," said Henderson, whose young team won just seven games a year ago.
This season, the Coyotes will benefit from a sizeable presence in the middle in the form of 6-foot-3, 280-pound senior center Ryan Galhano, who didn't play last year. Henderson expects Galhano will be one of the most physical players in the Southern League.
Three other seniors – forwards Dominyc Silva and Chase Vann and guard Vince Fuentes – were named tri-captains.
Henderson said Silva has the mentality and savvy of a "35-year-old city league player." He called Vann "a good glue guy" and rebounder who does many things to help a team. And he said Fuentes is "probably our best pure shooter with the most range."
Junior guard Isaac Starks, who played on the varsity as a sophomore, rounds out the starting five. Henderson said he's the team's best option to create a shot off his dribble.
The small roster means if one player misses practice, an assistant coach has to step in to have a 5-on-5 scrimmage. Denair's enrollment already makes it the smallest school in the Southern League. Despite that, Henderson thinks his squad will continue to build a new culture of success.
"There are good athletes in this town. I look forward to seeing us when we keep more of them at Denair High, can put more (championship) banners on the wall and send players to four year schools," he said.
Two former Coyotes — Salvador Dela Cruz (UC Merced) and Juan Dela Cruz (Holy Names University) – are playing at four-year colleges this season.
Varsity and junior varsity schedules
Girls Basketball
First-time fans who swing by the gym this season to watch the Coyotes are likely to be shocked by their pace. New coach Mike Turpin has installed an attacking, aggressive, running system predicated on a suffocating defense.
Denair will employ a full-court zone press all game long. Turpin expects his players to go all-out for two or three minutes at a time before he subs in a new lineup, much like an ice hockey line change. It's a scheme modeled after the St. Mary's (Stockton) girls program, which has been a perennial power in the section and state playoffs.
"Played correctly, we don't need an offense," said Turpin. "It's steal, shoot, steal, shoot. It's 94 feet of full-court pressure."
Turpin, who is retired, is a walk-on coach. But he has coached boys and girls basketball for 37 years; most recently, the girls team for the past two seasons at Granada High in Livermore. When he and his wife moved back to Turlock this summer, he learned Denair need a coach, applied for the job and got it.
Predictably, the Coyotes' practices reflect the intensity of their game performance. Turpin said that "we do everything with a basketball in our hand," including various quick-burst drills involving cones and dribbling, and agility and jumping drills using the bleacher steps.
The buy-in from the players didn't take long, said Turpin. He relied on Denair's only two seniors and co-captains – guards Ashley Ramalay and Samantha McVeigh – to set the tone for their younger teammates.
Turpin said Ramalay is the squad's best shooter and he wants her to be aggressive on offense. "She's just learning there are no bad shots." He described McVeigh as "all heart" and said she can play anywhere.
The early leaders on offense have been sophomore forward Katie Hernandez and junior guard Destiny Silva.
Hernandez, Turpin said, has "got talent and wants to learn. She's getting better and better." He called Silva a "bulldog" who's not afraid of anything. "She has an intensity that's unbelievable."
"I tell all our girls to give me 100 percent, step back and when you're ready to give me 100 percent again, let's go," Turpin said. "Watching how they've progressed in a month, I'm over the moon. They're just like a sponge. They've soaked up everything I'm trying to teach them."
Varsity and junior varsity schedules
Wrestling
The Coyotes finished third last season in the Southern League behind the conference's two dominant programs – Mariposa and Waterford. Six wrestlers advanced to sectional or regional competition. Denair's Don Helnore was named the SL Coach of the Year – an honor that typically goes to the coach from the winning school.
Helnore, now in his seventh year, has rebuilt a program that was on the verge of being eliminated for lack of interest. Now, he has grown the roster to 21 athletes and has developed a strong feeder program at Denair Middle School.
Helnore credits his seniors – Trevor Colvin (120 pounds), Richard Richards (145), Sam Davison (170), Sal Mendoza (182) and Luis Mendoza (220) – with creating a competitive culture and modeling a work ethic that their younger peers can follow.
"I think our five seniors will drive what we do this year. They've been a solid group that has established this run. They understand what it takes to compete at a high level," Helnore said.
Luis Mendoza and talented junior Indiana Olave (126 pounds) finished fifth last year at the Division Meet, which matches the top wrestlers in the Sac-Joaquin Section.
Helnore said the focus early in the season is "getting guys really conditioned and used to wrestling long matches." With some of his experienced wrestlers, it's a more a matter of "reviewing moves and refining them" than necessarily learning new techniques. He said he has introduced more dynamic stretching this year and sped up the pace of practice. At weights with more than one athlete, wrestle-offs determine who competes each week.
"We're aggressive in the (wrestling) room, but we know our limits," Helnore said.
Like most schools, Denair will compete in a series of regional tournaments and non-conference dual meets to prepare for the Southern League season, which starts in January. The second SL dual meet is Jan. 15 at home against Waterford on "Senior Night." Two weeks later, the Coyotes go to Mariposa.
"Mariposa and Waterford are the teams we have to beat. We know that. Everyone in our league knows that," said Helnore.
Varsity schedule