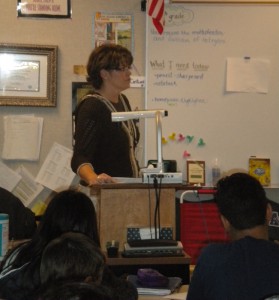 Submitted by Denair Unified School District
Name: Rosanne Cantwell
Family: I have a spectacular husband of 16 years, Mike, who not only teaches AP biology and chemistry at Gregori High School in Modesto, but coaches wrestling there as well. I am also blessed to have two beautiful, active daughters: Riley is 14 years old and a freshman in high school and Sidney just turned 12 and is a seventh-grader.
School: Denair Middle School
Subjects Taught: Seventh- and eighth-grade math as well as a leadership class
Experience and Education: I worked hard and earned my bachelor's degree and teaching credential from CSU Stanislaus. I am currently in my 18th year of teaching (all at DMS!!). I started teaching seventh-grade language arts and social studies before moving to sixth grade to partner teach with a dynamic teacher (Mrs. Bush) before taking two years off to stay at home with my girls. I returned to teaching in 2004 and have been teaching algebra/math ever since.
What inspires you about teaching? I think the connections that I get to make with these young adults that I teach inspires me the most. I remember when I was in sixth grade and had to have emergency surgery. My sixth-grade teacher (Ms. Willett) took time to come and visit me while I was recovering in the hospital. I knew then that I wanted to teach and connect with students the way that I felt connected to her. That she would take her personal time to visit me made me feel special. It gives me joy to have former students come back to visit my classroom to tell me they miss my class or that they are doing well in high school math.
After 17 years of teaching in Denair, I have great pride in seeing how successful some former students have become. Some are even parents now to my current students. I currently work alongside a particularly amazing former student (Mrs. Hilton) who carries the same enthusiasm and work ethic now as when she attends the middle school as a sixth-grader!
What are your biggest challenges as a teacher? Trying to get students to understand how important it is to have a work ethic. School is not just about the academics, although that of course is our primary focus. Students need to realize that no matter what their future holds for them, they will need to work toward the things that they dream of. Not many people will have the things that they desire without working for them. Opportunity does not just fall into our laps. There is great pride to be had when you have worked hard for something and see it become a reality for you. I always sign in the students' yearbooks to "Dream Big" and "Work Hard!"
What is your favorite teaching tool or activity? I like to connect the math concepts that we are doing in class to real-world applications or to concepts that kids will be learning in their future classes. I am getting better at using Power Point presentations in the classroom and the ELMO (a projection device) is also a great tool. The Internet is such a great place to get ideas from and to be inspired by. There are lots of ideas out there and so little time to find them all. The best ideas though come from some of the amazing educators I currently work with or have worked alongside in the past. I work with some FANTASTICALLY talented people.
How has Common Core affected your classroom strategy? I am teaching two new curriculums this year. I have spent the last 10 years teaching only algebra, so the switch to new subject matter has been a bit challenging for me. I am enjoying geometry much more than I thought I would! I believe in the idea that my students need to have a deeper understanding of why the algorithms work and not just plug in numbers to get an answer. If students understand why the algorithm works, they can apply it effectively and use it in other situations. I have found that I have to help parents adjust to the Common Core standards and methods as well. Learning Math is NOT the same as when I was in school … and rightly so.
What do you want your students to remember? Some kind of learning happens every day and they should be open to it. Kids should be curious and ask questions. I want students to try and have a positive attitude and treat everyone they encounter in life with respect. We all get one chance to live this life and it may as well be a positive experience!
How can parents support what you do? Ask their child what they did in school today and stay connected with their kids. Kids thrive when they have the support of the adults around them and know that their parent is interested in what is going on in their lives. Many parents will tell me that math was a difficult subject for them and they don't think that they can help their child. I suggest that they have their child teach them what they are learning in school. When the students talk about the concepts with their parents, they solidify the concepts for themselves and now the parent has an opportunity to show their children that learning can happen at any age.
What will it take to improve academic success in DUSD? Hard work by the teachers, administrators, board members, parents and community. We all have to work together to make things happen for our kids.
What's next in your classroom? My seventh-graders are going to work with rational numbers (fractions-yea!!!) to solve expressions, equations and inequalities. My eighth-grade students are finishing up on some transformational geometry and will be moving on to some algebra topics (yippee!) of linear equations, working with slope and solving systems of linear equations. My Leadership class is working hard at trying to promote random acts of kindness on campus. We believe that being kind to our fellow students on campus will make it a more positive atmosphere for all of us to achieve our very best.
What would surprise people about your job? I call my job the double "oh" job. When people ask what I do for a living and I tell them I am a teacher, they usually reply kindly "oh." When they probe further and find out that I teach middle school math, the "oh" becomes a little less enthusiastic. I get a kick out of teaching math, and I relish teaching this age group. They are still young kids at heart trying to discover who they are and find their way around this ever changing world. They occasionally will have deep conversations with you and can make me rethink my perspective on topics (as well as laugh at their goofiness). But mainly, this age group helps keep me feeling a little younger than I actually am.
What do you do for fun? I am constantly chasing my VERY active teenage daughters to their activities. So when I am not on the sidelines of a volleyball court or soccer field, you can find me SHOPPING for a good deal with my dearest friends or catching a nap.