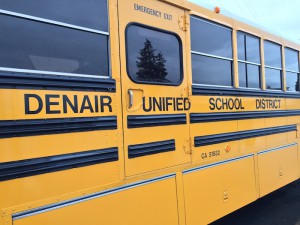 Submitted by Denair Unified School District
A shortage of qualified bus drivers and mechanics prompted the Denair Unified School District board to unanimously pass an emergency declaration Thursday night to immediately seek bids from a private company to provide the service.
About 120 of Denair's 1,300 elementary through high school students ride the bus daily, district officials said. Despite repeated recruitment efforts, Denair has been unable to find two qualified applicants to work the daily four-hour bus driver shifts. Drivers were paid between $13.50 and $16 per hour, depending upon experience.
Instead, other district employees qualified to drive a bus – a custodian, a utility worker and a transportation supervisor – have had to take time away from their other duties. In some cases, they also have had to work overtime.
When its own fill-in employees have been unavailable, Denair has had to contract with the Hughson Unified School District to provide bus services.
"We are little one absence away from the buses collapsing. If one of these employees is out, we would be in an untenable situation," said Superintendent Aaron Rosander, who stressed the need to provide reliable transportation to students.
The emergency declaration allows Denair to seek bids in a compressed time frame. Meanwhile, when school resumes January 5, 2015, after the holiday break, the district expects to drivers from Storer Transportation of Modesto operating the buses while bids are being evaluated.
The change will not affect the route schedule, said Linda Covello, Denair's chief business officer. She said the new company will be expected to use the four DUSD buses and offer an equivalent position to the current transportation supervisor.
Covello said Denair expects to spend about $75,000 to outsource busing, which would save about $39,000 from what was budgeted. The new company will provide bus services for the remainder of this school year, at which time the outsourcing arrangement will be re-evaluated.