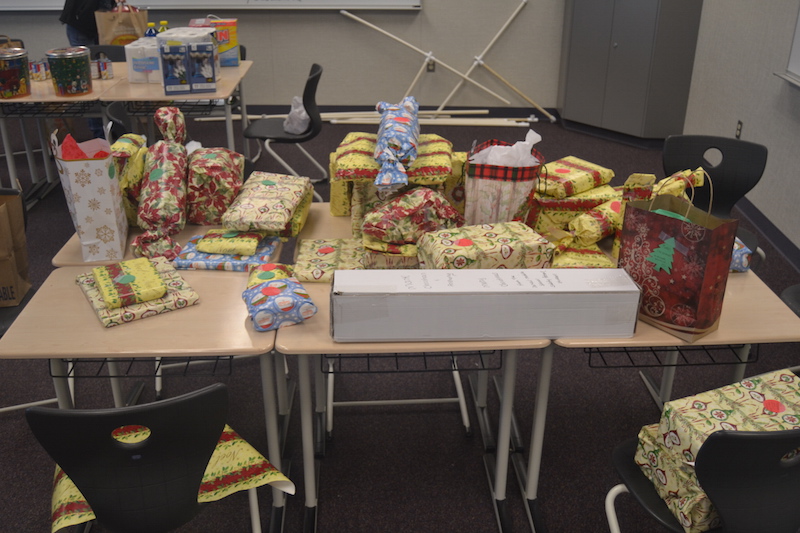 Submitted by Denair Unified School District
Like many good deeds, it started with a small idea.
"What if we do something nice for someone else for Christmas?" campus supervisor Melissa Oei asked her Denair Middle School safety patrol students in October. The sixth-, seventh- and eighth-graders brainstormed some worthy causes – help out an animal rescue organization, or donate to a church or homeless shelter. Then Oei suggested adopting a family in need.
"The kids just jumped," she said.
Step one: Goal identified. But what next?
Oei reached out to Sierra Vista Child and Family Services, a respected nonprofit agency that operates the Hughson Family Resource Center. Oei asked the staff in Hughson for families in the Denair area. Her students, she said, specifically wanted to help single-parent households.
Privacy restrictions prevented the agency from identifying the families, but two were quickly selected:
Kelly, a mother raising a 4-year-old daughter and 2½-year-old son
Mark, a father with an 8-year-old boy and a 5-year-old special needs son
The 28 safety patrol students went to work. They voted to each donate $5, but that quickly morphed into family and teacher involvement as more people became aware of the cause.
Oei said one student received $120 for his birthday and immediately gave $20. A girl baked cookies and sold them to her friends and relatives. A Denair teacher contributed two $50 gift certificates. Families gathered "gently used" clothes for the children. A local church donated wrapping paper.
As interest picked up, Oei's students became aware of what was on the two families' wish lists. A few inexpensive toys, for sure, for the children. But many were items that the Denair students, like most their age, take for granted.
Food. Winter jackets and sweatshirts. Socks, pajamas and underwear. Shoes.
One family even asked for a small Christmas tree.
"Some of my kids who want video games for themselves were surprised," Oei said. "I told them these families probably didn't even have anything to play video games on."
Earlier this month, Oei joined 11 of her students and their parents at the Wal-Mart in Turlock on a shopping trip. In all, the students had collected $325. And that doesn't include what Oei and some of her friends contributed, nor the $100 in food and toiletries donated by one family or the used microwave oven given by another.
The Wal-Mart shoppers split into two groups. They spent more than two hours in the store, trying to stretch every dollar. They focused on the children, but didn't forget about the parents – whose wish lists were all about their sons and daughters. Kelly will get pajamas with matching slippers and some bubble bath for Christmas; Mark will receive a new pair of Nikes and some clothing.
After the shopping spree, the Denair students spent part of their lunch periods wrapping the presents – sixth-graders first, then the seventh- and eighth-graders. The colorful packages were stacked and organized by family with nametags in Room B3.
The wrapping wasn't always perfect, Oei said, but that misses the true meaning of the project – helping others. Wednesday after school, she, some of her students and other helpers needed two cars to deliver all the gifts to Sierra Vista's Hughson office.
"It is very touching that the students came together to assist those who are less fortunate within our community," said Sierra Vista spokeswoman Marilyn Jacobs. "It's important for these families to experience Christmastime just like every other family this holiday season, and because of the Denair Middle School children, these families will be able to do just that."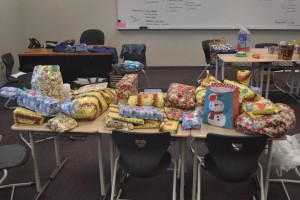 About 80 families in Stanislaus and Merced counties benefitted from the program this year, she said. The presents will be delivered to the families by early next week.
"It is said that the youth are our future, and with a sense of community, a giving spirit, compassion and willingness to assist those in need, the children at Denair Middle School are a shining inspiration to our youth to get involved and make a difference," Jacobs said.
Middle school Principal Aaron Delworth called the project "a lesson in appreciating the blessings in our life and about humility."
"Our students received a first-hand look into the lives of the people around them that might not be as fortunate as they are," he said. "All of those who took part demonstrated the true meaning of the holidays and the true meaning of being a family."
Oei also was filled with pride. "The students were very, very thoughtful. It all kind of snowballed."