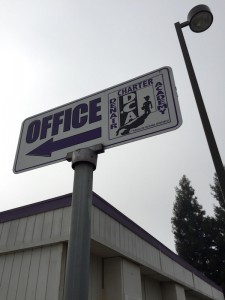 Submitted by Denair Unified School District
Erin Kirkley, who was once a dropout and now is on the brink of graduation, calls Denair Charter Academy "her second home." Darlene Contrell credits DCA with turning around her grandson's life. A teen father says the independent study program allows him to balance school with a job to support his daughter. Aspiring church missionary Tabitha Harrison appreciates the flexibility of the schedule.
Though each student's situation is unique, they all reflect an approach to what Principal Michelle Bush calls "personalized education." The appeal and effectiveness of that philosophy is reflected in the small campus' impressive growth: Just since August, DCA's enrollment has risen from 225 students to 320 today.
"I think the kids are seeking a different kind of experience," explained Bush, who blends high academic expectations for her students with equal portions tough love and emotional support. "The magic in this place comes from the relationships teachers establish with their students that extend beyond the lessons."
DCA is not a traditional school. It offers comprehensive support for parents who home school their children (46 this year) as well as a rigorous independent study program for high school students who need a different path to their diplomas. Those teens arrive from throughout the region for a variety of reasons – they have fallen behind in a traditional setting, they have behavioral or emotional issues, they have to work to support their families or they have specific scheduling needs.
Whatever the circumstances, Bush and her staff work on-one-one with the student and his or her family to create an Individual Learning Plan, which guides what will follow. Students spend only an hour or two on campus each week to meet with their teachers, who grade and review previous assignments, answer questions and give the teens the next week's worth of lessons to be completed at home. There also is one parental meeting a month and a counselor on staff to work with families.
The expectations are high and the responsibility all on the student to complete the work.
"The image of it being a quick and easy way to get an education is the myth that is blown away," Bush explained.
Kirkley arrived last year as a junior, admittedly with "a bad attitude toward school … and toward life." She had bounced between high schools in San Antonio, Texas, and Modesto before being directed to DCA.
Kirkley said it was the connection formed with teacher Suzzan Whitecloud that "helped me get my head on straight."
"DCA has become not only a place where I get my education, but it's like a second home. Everyone here is very friendly and genuinely cares," said Kirkley, who now looks forward to attending college to study forensic psychology, criminal justice (to become a profiler) or journalism.
"DCA is a great learning environment," she said. "Not only have I achieved more academically, I have become a better person."
Contrell tells a similar story about her grandson, who struggled as a freshman at a public school in Modesto.
"He hated going to school. He was one of those kids who was lost," she said. "… He just didn't fit. He seemed to have a lot of problems. He wouldn't do his homework and was just failing everywhere. He had no confidence or self-esteem or nothing. … He's a good kid, but he just lost his way."
A counselor at the high school recommended DCA. Contrell said her grandson and teacher R.J. Henderson "connected right away."
"He has gained esteem and confidence. He feels better about himself," she said. "This has given the opportunity to look at himself differently. Everybody at the charter school is so encouraging. Whatever they need, they will get them the help they need. They take such an interest.
"Mr. Henderson and my grandson talk about things other than school. He sets expectations and my grandson produces."
Henderson meets with the teen every Monday morning. The school load was intense, Contrell said, because her grandson had to make up for work he failed as a freshman. He's done that in addition to his sophomore requirements while earning a 3.75 grade-point average.
"He's done very well. It's like his horizons are expanding," Contrell said. "Not every child fits the (traditional) school setting. There are so many kids who have different needs. I know for our situation, it's been a Godsend. I was at my wit's end."
For the teen father, everything changed when his girlfriend became pregnant. DCA allows him to continue his education and work toward a diploma while providing for his daughter.
"I can't go to regular school anymore," he said. "I have to work every day and the money I get isn't just for me. I have to buy things that the baby needs."
Harrison, who wants to do religious missionary work in other countries, said DCA's independent study program is perfectly suited for her. "I can choose when I go to school (at a time) that fits my schedule," she said.
Some teens use DCA as a way to get back on track academically before they return to traditional campuses; others stay until they earn their diplomas. Bush and her staff respect the distinctive back stories of each of their students. She is not being judgmental when she describes today's teens as "a stressful, anxiety-ridden generation" and says that her campus serves "the neediest of the needy."
"I think our growth happens because these kids go to comprehensive programs and, for whatever reason, don't find something they can feel good about," she said.
Bush also is quick to credit her 20 teachers for creating the trusting, caring environment that is essential to DCA's success.
"We're invested. My teachers put their cell phone numbers on assignments. When we got our (student) test scores, we were high-fiving each other," she said. "When the kids see how hard their teachers are working on their behalf, they don't want to disappoint them. That's worse than any grade they'll get."