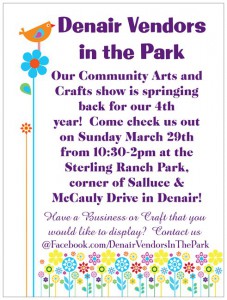 Submitted by Denair Vendors in the Park
The next Denair Vendors in the Park is scheduled for Sunday, March 29, 2015, 10:30 am to 2:00 pm. Join them for a great community Arts & Crafts Festival.
Vendor Information
Cost: $24 and a small fun raffle donation of $5 value (discount if prepaid at least two weeks prior to event date) All independent consultants, such as Mary K., Scentsy, etc., that sign up to hold a spot must prepay in that time, or spots will be released at the two week mark due to the fact that they only allow one representative per specific company.  All arts and crafters may either take advantage of the discount to prepay or pay the day of the event.
Space: You will have a space that is as big as your pop up, up to 12'x12′. Some spots are deep and you may utilize this extra room. If you would like a double space, please make arrangements with Mel DeSouza prior to set up so that she can accommodate this request, for an additional fee.
All vendors and crafters must sign a Vendor Contract and a Hold Harmless Agreement from Stanislaus County. They will be available at the event to print, as well as the Denair Vendors in the Park page in the notes section, for you to send in with your payment.
Set up will begin at 8:00 am and the show begins at 10:00 am. Tear down will be after 3pm. You may stay later if you wish, but please make arrangements if you will need to leave early as you will be assigned an outter spot so as to not disturb the show or neighboring vendors.  Non profit, Community Service, or Animal Adoption, Rescue or Awareness booths are still free! Spread the word!