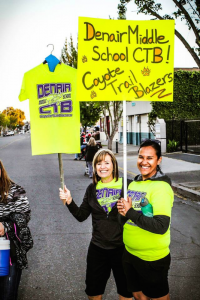 Submitted by Denair Unified School District

Most parents can agree that getting their middle school age students up early on a Sunday is quite a challenge.  However, this past Sunday, nine Denair Middle School students were up and traveling to Modesto before the sun even rose in the sky.  These dedicated students call themselves the Coyote Trail Blazers, also known as CTB, and they comprise an after school running club at Denair Middle School.  Their early journey to Modesto was the culmination of weeks of preparation to participate in the Modesto Marathon 5k.  The school club consists of eleven students who have  been running twice a week to prepare for the race and to improve their overall fitness.  Family, friends and the DMS club coordinators were all present at the race to either run with students or cheer them on from the sidelines.
The after school club is voluntary and open to all students grades 6-8.   It is led by four DMS staff members: Valorie Periera, David Rodriguez, Isabel Alvarado and Elise Domico.  The coordinators strive to make running, health, and fitness enjoyable for the students.  When the club began, students were asked to share their reason for joining.  Many simply stated that they love to run.  Others stated that they wanted to learn to love it.  Student participants do not just run circles on a track.  They do a variety of activities such as speed drills, games that incorporate running, off campus runs and stretching/flexibility exercises.  All of the students are at different levels in terms of their running ability.  Coordinators do not emphasize competition between students instead encouraging each one to set their own personal goals.
Many of the  students involved with CTB recently began representing DMS through participation in track.  Often, students in CTB complete their training with the club and then head over to Denair High School to hone their skills in various track and field events.  The small, tight knit staff relationships at Denair Unified school District makes it easy to work out a situation where students can take part in both of these activities.
Next year students will begin training in October so that they can complete the Modest Half-Marathon.  They will partner with Teens Run Modesto (TRM) and will complete long runs with the group on Saturdays.
The training that began in early February was supposed to culminate with the 5k race at the Modesto Marathon.  However, students were recently asked if they wished to continue the club into April.  Coordinators heard a resounding "yes!" from the students.  This is exactly what they hoped for when they created the club.  After the race Mrs. Periera shared, "It was one of the most rewarding days I've had in a long time".
After the 5k race, students, family and program coordinators watched the elite half-marathoners cross the finish line.  One of the students looked up, and with a gleam of determination in their eye said, "That's gonna be me".  Many of the students asked, "When can we do another race?"  It seems, that for these students, the early mornings have only just begun.