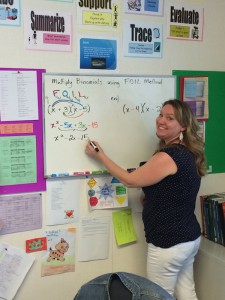 Submitted by Denair Unified School District
Name: Cristina Rojas
Family: Sons, Alex (20) and Max (18); daughter, Grace (12)
School: Denair Charter Academy
Subject taught: Independent Study – all
Experience and education: Bachelor's degree in economics and teaching credential in math. I have been teaching in Denair since 2010.
What most inspires you about teaching? Making a difference in the lives of students is what inspires me.
What are your biggest challenges as a teacher? Time.
What is your favorite teaching tool or activity? My favorite teaching tool/activity is having in-depth conversations with my students.
How has Common Core affected your classroom strategy? Common Core has jump-started many relevant real-world, cross-curricular conversations between me, my students, other students and teachers in the classroom.
What do you want your students to remember? I want my students to remember that they all are valuable, have worth and have something special to offer this world.
How can parents support what you do? I believe parents can support what I do by being present and engaging in their child's life.
What's next in your classroom? Continued collaboration and problem-based learning activities and lessons.
What would surprise people about your job? The amount of paperwork that this job entails would surprise people.
What do you do for fun? I love to travel, am passionate about cooking and enjoy reading.