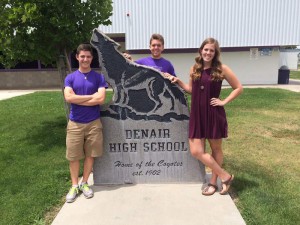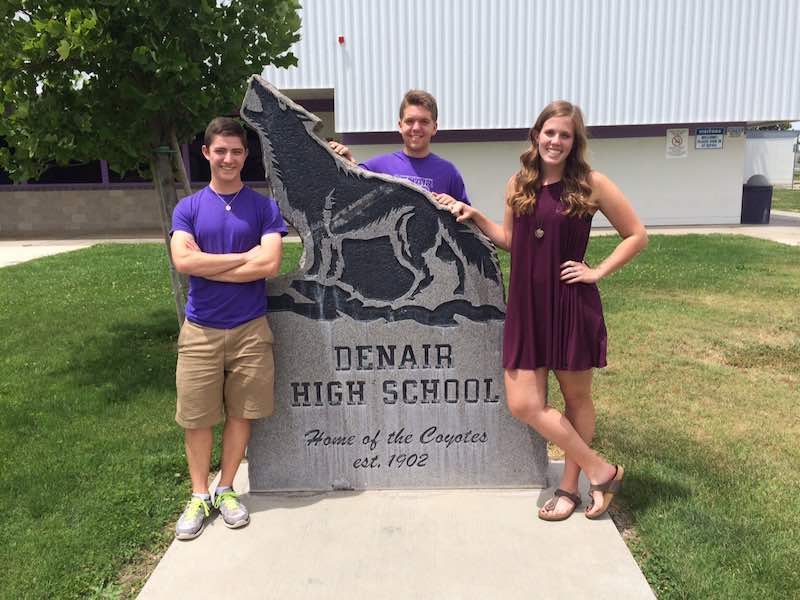 Submitted by Denair Unified School District
The Denair High School Class of 2015 will be honored May 29 at a graduation celebration. The event begins at 7:30 p.m. at Jack Lytton Stadium. Gates open at 6 p.m. Tickets are not required.
Anna Dirkse, Brian Dudley and Andrew Knapp will be the valedictorians. All three accumulated a 4.3 grade-point average in their four years at Denair – the highest in their class. Anna, Brian and Andrew recently took time to answer 10 questions about their high school experiences.
Question: What are the key things other students should know about your academic success and how you achieved it?
Anna: Some of the keys to my success have been my parents and my teachers. Both have pushed me to do my best and helped me to succeed.
Brian: My parents really pushed me to get A's in my classes. Another thing that helped me go for the better grades was to get higher grades than my brother did throughout high school.
Andrew:  All I did was do what was asked of me. From there, I gained an interest in what I did through my teachers.  Everything else simply fell into place.
Q: How much time outside of class did you spend studying or doing homework?
Brian: It really depended on the time of year, but I would estimate at least two to three hours per night studying.
Andrew:  Depending on the time of year, I would study from less than one hour to around four.
Anna: I have never had to spend much time on homework. On a normal day, two hours at most.
Q: Which classes and/or teachers at Denair High had the most influence on you?
Andrew:  The most influential teacher I had was Mr. Michaelis. He was my math and Academic Decathlon teacher for two years and my tennis coach for four.  I would like to thank him for all that he has done for me.
Anna: Mr. Stav, Mrs. Hilton and Mr. Robinson all had big impacts on my time at Denair. They taught some of my favorite classes and they all encouraged me to do my best.
Brian: The teacher who influenced me the most would be Mr. Robinson. He was an all-around good person and I learned a lot in his class. He also is Catholic and goes to my church so I could ask him questions about church-related things, too.
Q: How many Advanced Placement classes were you able to take? Were you challenged?
Anna: I was able to take six AP tests while at Denair. My most challenging classes were AP studio art and AP statistics.
Brian: I took two AP classes my junior year: U.S. history and language. I took three my senior year: Spanish language, literature and statistics.
Andrew:  I took two AP classes my junior year and two my senior year.
Q: What kind of culture of learning exists in your home? What has that meant for your success in high school?
Andrew:  I have always had great support from my family in anything related to my schooling.  
Brian: As I said, I am very competitive with my brother so I always tried to do better than him throughout school. Also, my parents really pushed me and supported me throughout high school for good grades.
Anna: My parents have always cared about my education. This has helped me be successful because they made sure that I got my homework and projects done. They helped me when I needed it and kept me going through the long school year.
Q: What should members of the community know about the quality of education at Denair High?
Anna: Education is a priority at Denair. The teachers work hard to help the students succeed and do their best.
Brian: I feel as if Denair gets a bad rep, but I feel ready to go to college. The community bases their ideas of the school off of the athletics, when really it's about the education. I would not want to go to anywhere else.
Andrew:  I have experienced everything I have needed here at Denair to get into UCLA.  Whatever students are looking for, if they put in the effort, they can find it here.
Q: Outside of class, what kinds of teams, organizations or clubs are you involved in? How important are extracurricular activities in preparing you for college and beyond?
Brian: I was involved in many clubs, but my favorite would be drama. I also did Denair Matters, CSF and PHAST. I played varsity soccer and tennis as well.
Andrew:  I was involved in whatever I could be from tennis to drama and ag mechanics.  My three most rewarding activities were band, my junior year in drama and the Academic Decathlon team.
Anna: Outside of class, I played on the tennis and soccer teams. I was also very involved in Drama Club all throughout high school. In 2013 and 2014, I went on overseas missions trips with the organization Royal Servants. All of these things helped me to become who I am and prepared me for college by teaching me how to think for myself and accomplish my goals.
Q: What is the right balance for teens busy with school, teams or clubs, and even part-time jobs?
Andrew:  Always keep time for yourself, wherever you find yourself to be, whether in studies, on the court or behind a counter.  The right balance is different for everyone.
Anna: I think that school should always come first. After that, whatever else you can fit into your schedule is up to you!
Brain: I always try to keep free time for myself. I hate spending too much time studying, so sometimes I will even stop in the middle and take a break instead of just doing all of my homework in one sitting.
Q: What are your college and career plans?
Anna: I am going to attend George Fox University (in Oregon) as part of its William Penn Honors Program.
Brian: I plan to go to California State University, Stanislaus, where I will major in kinesiology and minor in Spanish. I want to become a high school P.E. teacher.
Andrew: I plan on going to UCLA and majoring in biology with a minor in music.  In the future, I hope to be a science teacher either at the high school or college level.
Q: What themes are you going to talk about in your speeches on graduation night?
Brian: I will be talking about how you should never quit and don't make excuses.
Andrew: I will talk mainly about how quickly time passes us.
Anna: My speech focuses on our time at Denair. I thank the teachers and faculty, and end with a quote to think about for the future.