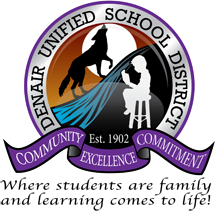 Submitted by Denair Unified School District
Continued growth in elementary enrollment and a $1 million infusion of extra state money are the key reasons behind the ongoing financial improvement in the Denair Unified School District.
Trustees listened to a presentation and heard public comment about the proposed $11.9 million budget for 2015-16 at their meeting Thursday night, a decrease of $270,000 from the previous year attributed to staffing reductions. Board members will take a final vote at their June 25 meeting.
The best news concerned the number of elementary students. Projections show 481 youngsters in kindergarten through fifth grade at the new Denair Elementary Charter Academy and traditional Denair Elementary School. That's an increase from 468 in 2014-15.
The growth at the elementary level partially offsets further decline at Denair High School, where enrollment is projected to be 300 in 2015-16 – 36 students less than the year before.
Across the entire district, enrollment is projected to be 1,220, 35 students less than 2014-15.
"Our goal is to grow enrollment (at the lower grades) and push it to the middle school and high school," Superintendent Aaron Rosander explained.
Denair Unified has six campuses – a high school, middle school, elementary school, two charter schools and a state-sponsored preschool. Projections for the next three budget cycles anticipate a 4% annual enrollment decline, but Rosander said the district will work hard to retain students within its boundaries and attract others to its charter programs.
The improving California economy is the reason behind the additional state funding, Chief Business Officer Linda Covello told trustees. In his May budget revision, Gov. Jerry Brown proposed pumping $6 billion more into K-12 schools than the plan he announced in January.
Denair's piece of that pie? About $1,050,000, Covello said.
Of that, $300,000 is in so-called "gap" funding and another $750,000 is a one-time reimbursement to help make up what the state shorted the district during the recession. Covello said about $100,000 will be spent on state-mandated increases in contributions to public employee pensions and the rest will be spread across programs, facilities and to bolster the district's savings. She expects the district to end 2015-16 with about $1.1 million in reserves.
"One-time funds can give a false sense of security sometimes, so we'll keep a close eye on how we use them," Covello said.
There will be no raises for teachers, who accepted an 8% salary reduction early in 2014 to help patch a multimillion-dollar budget deficit. Denair expects to have 53 teaching positions among its 158 employees next year. Future budgets do not anticipate layoffs.
Trustee Robert Hodges expressed frustration that additional pension contributions prevent the district from restoring some of teachers' pay.
Thursday's meeting also included a staff report and presentation about the Local Control and Accountability Plan, required of every public school district in California. The three-year plan was created with input from staff, parents and the broader community. It ties funding to specific student needs and  outcomes at various grade levels. Trustees will vote June 25 on the LCAP.
The LCAP lists five goals that apply to all campuses:
•  All students, including all subgroups, will make continued academic progress with the intent of meeting or exceeding a year's growth toward Common Core proficiency in math, English, science and social science
•  All students and all subgroups will engage their individual learning styles and unique interests to acquire 21st-century skills and the passion for continuous learning as they pursue higher education or career technical pathways
•  All students, including all subgroups, will have equal access to a broad course of study including but not limited to modern language, visual and performing arts, and physical education
•  All students, including all subgroups, have the right to a safe and healthy environment to achieve social, emotional and academic success
•  All teachers in the Denair Unified School District will meet the federal standards for highly qualified teachers
In other action, the board:
•  Voted 5-0 to hire a learning director at the elementary charter academy. It is a new position. The director will assist Principal Sara Michelena with a range of administrative duties, including academic and crisis counseling for young students.
•  Ratified a contract with the Denair Unified Teachers Association that includes some minor language changes, but postpones consideration of salary increases until next 2016-17.