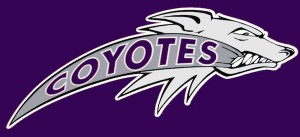 Submitted by Denair Unified School District
Through five games, a few things are clear about the Denair football team: They're small in numbers, but won't be intimidated. They're more competitive than they've been in years. And they have a habit of getting off to slow starts.
All three characteristics were on display Friday night in Denair's 26-20 loss to Southern League powerhouse Mariposa.
Slow starts. Just as it did against Summerville in the season opener, Denair gave up a touchdown on its first defensive play of the game. This time, it was a short pass that Mariposa's receiver turned into a long score by eluding a couple of would-be tacklers. The defensive problems lasted the rest of the first half, when the Grizzlies scored all their points.
The Coyotes began the game with 26 players, had two injured during the game and another who exhibited concussion symptoms afterward and spent a night in the hospital. Still, Denair's coaching staff and players showed flexibility with on-the-fly position switches and many guys playing offense and defense. The Coyotes have grit.
Despite falling behind early, Denair's defense buckled down to keep the team in the game. Justin Steeley's 85-yard TD run late in the second quarter cut Mariposa's lead to 26-14 at halftime. Juan Barrera cut the lead to 26-20 with his own TD run in the third period. The Coyotes had a final chance with the ball at midfield with about 5 minutes left in the game, but were forced to punt and never regained possession.
Barrera was the game's offensive start, running for more than 220 yards and the touchdown.
First-year coach Anthony Armas said there were a number of takeaways in the loss, which dropped Denair to 1-1 in league play and 2-3 overall.
"It was a physical game. We were scrappy," he said. "We got down early, which wasn't good. But we held them and had a chance to win at the end. … We've got to get off to better starts."
Things don't get any easier this week with unbeaten Gustine (5-0 and tied with Mariposa for first place) visiting Jack Lytton Stadium on Friday night.
"Our home stand is tough — Mariposa, Gustine and Orestimba," said Armas. "That's the way this league is."
Still uncertain is the status of the three injured players – running back/defensive back Chase Pritt (back), running back/defensive back Bryant Van Vleet (concussion) and lineman Kyle Perkins (ankle).
Pritt was taken off the field on a stretcher after a violent collision in the fourth quarter, Van Vleet complained of a headache after the game and ended up having concussion tests at two hospitals Saturday and Sunday, and Perkins will find out Tuesday if he broke his ankle or just badly sprained it.
"It's next man up," said Armas, who already has three sophomores on his roster.
Steeley, for one, is not backing away from the challenge.
"Mariposa came in thinking they were going to steamroll us and they thought wrong. We really came together as a team," he told the Turlock Journal. "We're going to get our fundamentals down and just get better every day."