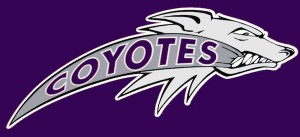 Submitted by Denair Unified School District
The harsh reality of too few players matched against a superior opponent was too much for the Denair High football team to overcome in Friday night's 44-0 Southern League loss to undefeated Gustine.
The Coyotes began the game with just 22 players and then lost one of their best two-way performers, Juan Barerra, to a knee injury in the first half. That came a week after three other players suffered injuries in a hard-fought loss to Mariposa.
"It's the next man up with injuries. That's what we tell the kids," said first-year coach Anthony Armas.
Denair is 2-4 overall and 1-2 in the league play midway through the most difficult part of its schedule. The Coyotes already have faced Mariposa and Gustine, and in the next two weeks host Orestimba and travel to Ripon Christian. Those are the top four teams in the Southern League with a combined record of 20-3 overall and 10-2 in league play. Gustine and Orestimba both are 6-0 this season.
"The league this year, from top to bottom, is very, very tough," Armas acknowledged. "And that's what we told our players from Day 1. That's the situation we're in. There's nothing we can cry about."
Denair is the third team this season to be held scoreless by Gustine, a squad Armas called "big and fast."
"They played well and we didn't," he said. "We're just making little mistakes. Some of them are mental, like going the wrong way on a block. On defense, we missed a lot of tackles."
Armas praised running back Justin Steeley for his effort, but said the offense "didn't go as well as we hoped."
Things get no easier this week with a homecoming game against Orestimba.
"They're pretty dynamic on offense, similar to Gustine," Armas said. "I think Gustine is a little bigger, but Orestimba has a very good quarterback and a dynamic running back."